Blog Feature Article
Best Places to Campervan in California
It should come as no surprise that California has some of the best camping spots in the U.S., if not the world. The Golden State features nine national parks, including the iconic Yosemite; 840 miles of coastline; and wonders such as the world's tallest trees and the hottest place on the planet. There are dozens of fantastic campervan and RV campgrounds in California, but here are seven of the best.
1. Ramblin' Redwoods RV Resort – Crescent City
The California Redwood forests are some of the most amazing natural wonders in the world, and Redwoods RV Resort, located in Crescent City, offers one of the best ways to see them. The newly-renovated resort is nestled among spruce, hemlock, Douglas fir, and Redwoods, and is situated just minutes from Redwood National and State Parks, Redwood National Forest, Del Norte Coast Redwood State Park, and Jedediah Smith Redwood State Park.
The park's 80 sites have full hookups and 50 amp electric; restrooms, hot showers, and laundry facilities; a playground; and an on-site store. They also provide tent camping, for those who want to get back to basics, and fully-furnished rental cabins, for campers wanting a little more space.
2. Big Flat Campground – Six Rivers National Forest
To truly get away from it all, head to Big Flat Campground in northern California's Six Rivers National Forest. Big Flat has no hookups or facilities, so it's pure dry camping, but the campground more than makes up for its rustic offerings with its surroundings. Campers are surrounded by pristine forests, streams, and wildlife. You can reach Hurdygurdy Creek on foot and South River Fork is half a mile away. Note that Big Flat Campground is only open in the summer.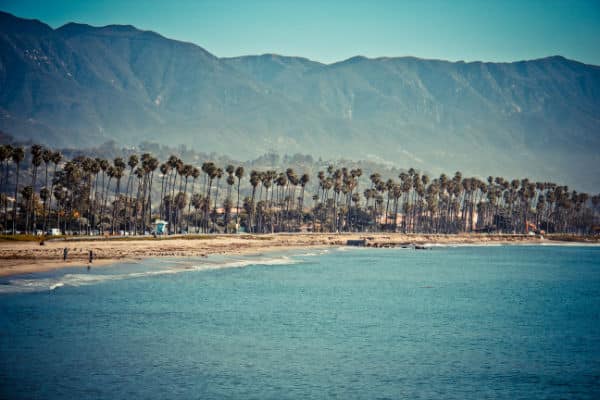 3. Ocean Mesa at El Capitan – Santa Barbara
One of the best RV parks in Southern California is Ocean Mesa at El Capitan, Santa Barbara, about a two- hour road trip from Los Angeles. Ocean Mesa's location along the famed 101 makes it ideal for exploring southern California. The park features full utility hookups, pull-through, and back-in sites, and can accommodate rigs up to 50 feet long. Other amenities include Wi-Fi and cable TV, a fire pit and grill at every site, a heated pool and spa, laundry facilities, and a general store.
4. San Francisco RV Resort – San Francisco
For a true California experience in your RV or campervan, consider San Francisco RV Resort, which is perched on cliffs overlooking the Pacific Ocean and situated only 15 miles from some of San Francisco's most famous sites, including the Golden Gate Bridge, Half Moon Bay, and Alcatraz. In terms of location alone, San Francisco RV Resort is one of the best RV campgrounds in California: campers are treated to spectacular ocean views (and sunsets) and are just steps away from the beach.
The resort offers full hookups at most sites; restroom, shower, and laundry facilities; and a picnic and barbecue area. Amenities include an outdoor pool and hot tub, clubhouse, and playground. There are 162 paved and level campsites—all of which are oceanfront. Note that the sites right on the ocean have no hookups.