Forget Expensive Hotel Rooms – Road Trip in a Minivan Camper Instead
If your idea of the perfect road trip is chasing the sunset down a deserted dirt road, or ticking off as many national parks from the bucket list as you can, van life travel may be the way to go. Traveling the United States by van is the perfect way to explore remote destinations and off-the-beaten-path attractions, while never having to deal with the hassle of finding a hotel at the end of the day. If you're on a budget or prefer a simpler form of travel, there are several reasons you may want to opt for a minivan camper over a fully-decked out camper van, motorhome, or RV.
The conversion van rental craze is sweeping the globe, and for good reason. Conversion vans combine the comfort of having your own home on wheels with the flexibility of being able to go wherever you want, whenever you want. Conversion van rentals are easy to drive and are a great way to try out the campervan lifestyle before you invest in your own. Here are just a few ways conversion vans are changing the way we travel for the better.
Big Sur is the name for the 90-mile stretch of wild and rugged coastline between Carmel and San Simeon, California. This classic drive along Highway 1 is often recognized as the most scenic coastal drive in the US. It offers plenty of places to explore along the way, from dense redwood forests and soaring ocean cliffs to deserted beaches and luxurious coastal towns. One of the best ways to experience the dramatic natural beauty of the California coast is to spend a night or two at one of the Big Sur campgrounds along Highway 1.
If you're planning a road trip in the USA, there's no doubt you would love to see as much of this beautiful country as possible while getting value for your money and not breaking the bank. The cost of road tripping in the USA can quickly add up if you are not conscious of your spending, but that doesn't mean you can't have an incredible experience while spending as little as possible. Read on to learn about all our expert budget travel tips for a road trip in the USA.
The best way to see North America is on a road trip. Whether you're planning a road trip and plan to rent a campervan or RV or you're considering becoming a full-time van lifer, we have you covered. We've put together a full guide covering do's and don'ts, great tips, and expert recommendations for traveling around the United States by road.
Getting ready for your campervan adventure around the USA and not sure what you should add to your road trip packing list? If you're not an experienced camper – or even if you are – it's easy to forget to pack the little things that will make a big difference when out on the open road.
Of course, you will need all the camping essentials; such as your pillows, sleeping bags, towels, camping chairs, pots, pans, cutlery, and other kitchen equipment. For the sake of not stating the obvious, we have left those items off our packing list, and focused on other items that are practical, fun, and often forgotten!
Note that with Travellers Autobarn campervan rentals, you can rent a pack including all the items listed above and more. This pack includes items for up to 3 people and costs just $45 per rental.
From our road-tripping experience, we have compiled this list of 12 essential items that we can't live without on a campervan road trip:
Are you thinking of road tripping or RVing in the USA? Undoubtedly, you want to explore the best of the cities, as well as the USA's many incredible national parks and great outdoors. There are many options you might want to explore the possibility of for your road trip; whether your travel method is by car, motorhome, bus, or bike. But have you considered renting a campervan for your USA adventure? We have tried out all the different methods ourselves. Here are 6 reasons why we believe renting a campervan is the best way to travel in the USA, especially for the outdoorsy type.
If you are planning a road trip and want a vehicle that you can travel and live in, you might have questions about which rental vehicle is right for you. There are campervans, motorhomes, caravans, and RV rentals (recreational vehicles). The list goes on. So, what is the difference between these various terms?  What is the best option for you during your road trip through the United States? We have got all the information for you below.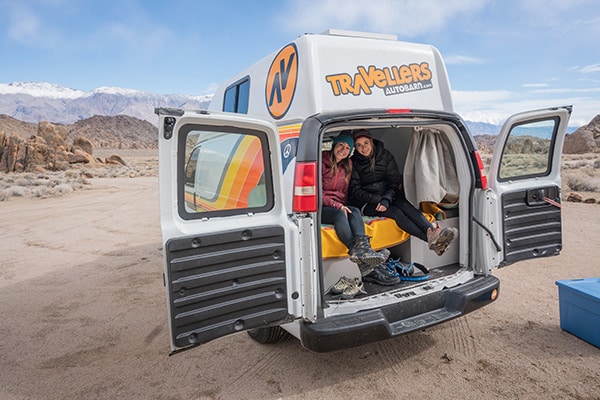 Can you think of a better time to see the purple mountains majesty or the amber waves of grain than in the winter? When you're out on the open road on your adventure, the brisk winter air, heavy coats, campfires, and hot cocoa give your voyage an added frontier-esque feel. It's truly magical!
There are many reasons why you should take a campervan road trip in the winter. Summer may be the prime travel season, but we're going to give you a few reasons why winter travel is equally impressive.
What are you waiting for? Winter only comes once a year! Book your fully-loaded, adventure-ready Travellers Autobarn campervan, and get ready for that fantastic winter adventure.
Are you planning for an amazing winter camping trip via campervan? Let us be the first to tell you; you've made a great choice. There are so many benefits to getting out on the open road and RVing in the winter months, but we get that there might be a little trepidation as well. We want to reassure you that it is entirely feasible and safe with some good ole' fashion planning and preparedness.
Luckily, we've done some of the work for you already. Our fully loaded campervan rentals come with plenty of space for those extra accessories to keep you warm in addition to ample room to stand up and move around. Each of our camper vans come with a sink, gas cooker, fridge & microwave, so you don't have to prepare your food out in the cold. Moreover, if the temperature at your current location is just a tad beyond your liking, all of our rentals come with free unlimited miles so you can move to warmer climates.
Beyond that, we've prepared a list of a few other considerations to keep in mind for off-season camping and your snow-bound adventures. So head on over to our site and book your fully-loaded, winter-ready campervan and let's go!