Ultimate National Parks Campervan Road Trip
Visitors can reach America's national parks by plane, train, and car, but one of the most memorable ways to experience the parks is by RV or campervan. With your campervan or RV, you can often stay within the park itself or just outside its borders. This enables you to not only get a close-up view of some of the most beautiful scenery in the world, but also spend much less than you would staying in hotels at the parks.
This 3,665 mile itinerary out of San Francisco, includes some of the most spectacular parks in the western U.S., including Glacier National Park, Yosemite, Zion, and Yellowstone.
Are you ready for an unforgettable adventure? Read on to find out more about each national park and some of the best RV and campervan campgrounds nearby. Then pick up one of our fully loaded campervans and hit the road!
Buckle up for our list of the most epic places to campervan in the United States. We really had to dig deep for this one! We pored over all our favorite trips to come up with our top 10 places, and we're so excited to share it!
So pack your bags, book one of our deluxe campervans at our Los Angeles, San Francisco, or Las Vegas location and hit the road—here are the top 10 places to campervan or RV in the western United States!
1. Death Valley National Park, Nevada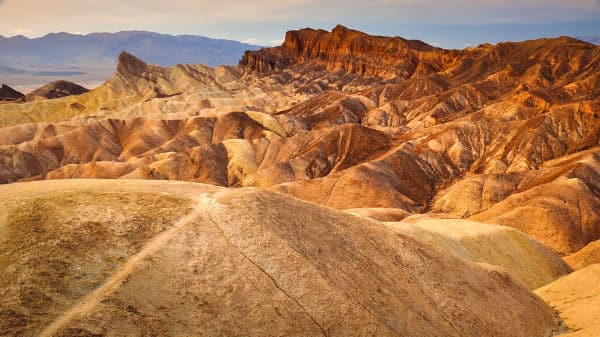 You might shy away from our first pick given its name, but believe us—the views are spectacular.
Death Valley National Park (DVNP), in southeastern Nevada near the California border, is home to 3.4 million acres of desert and mountainside. While its name may seem to accurately describe its ghost-town qualities and lack of vegetation, it is actually home to several stark contrasts.
While Death Valley can see some of the driest, hottest summers on earth, towering peaks are frosted with snow during the winter months and the occasional rainstorm can produce an abundance of wildflowers in the spring.
But be forewarned: We've heard from some of our fellow campers that DVNP accommodations tend to sell out frequently, so be sure to make a reservation well in advance.
With dozens of themed hotels and casinos, amazing shows, extravagant buffets, and tons of other ways to have fun (often a little too much fun), Vegas has something for almost everyone. But there are also ways to enjoy yourself outside of Vegas; the city is a great starting point for some excellent RV or campervan camping trips.
There are several renowned national parks near Las Vegas. The Grand Canyon and Bryce Canyon National Park are both about four hours away; Zion National Park is about three hours away; and Death Valley is only a two-hour drive from Las Vegas—just to name a few.
So, spend a few days in Sin City and then de-sin on the road, all while soaking in some beautiful scenery.
Here are some of the best RV and campervan campgrounds near Las Vegas.
It should come as no surprise that California has some of the best camping sites in the U.S., if not the world. The Golden State features nine national parks, including the iconic Yosemite; 840 miles of coastline; and wonders such as the world's tallest trees and the hottest place on the planet. There are dozens of fantastic campervan and RV campgrounds in California, but here are seven of the best.
1. Redwoods RV Resort – Crescent City
The California Redwoods are some of the most amazing natural wonders in the world, and Redwoods RV Resort, located in Crescent City, offers one of the best ways to see them. The newly-renovated resort is nestled among spruce, hemlock, Douglas fir, and Redwoods, and is situated just minutes from Redwood National and State Parks, Redwood National Forest, Del Norte Coast Redwood State Park, and Jedediah Smith Redwood State Park.
The park's 80 sites have full hookups and 50 amp electric; restrooms, hot showers, and laundry facilities; a playground; and an on-site store. They also provide tent camping, for those who want to get back to basics, and fully-furnished rental cabins, for campers wanting a little more space.