Why you should hire a Campervan from us
So you are thinking of doing a road trip in the US? There are many campervan/RV rental companies in the market so here are few things to get you going and to think about:
SPACE
Space is a big thing, especially if you are traveling for more than a week. A lot of campervan/RV rental companies provide a van with a bed to sleep in – you cannot actually stand inside the camper at any time. Our Hitops & Kugas all allow you to stand up in them, even with the bed made up – that's a big advantage! With an internal height of 6'5''/1.96m, it gives you a lot more room to move around.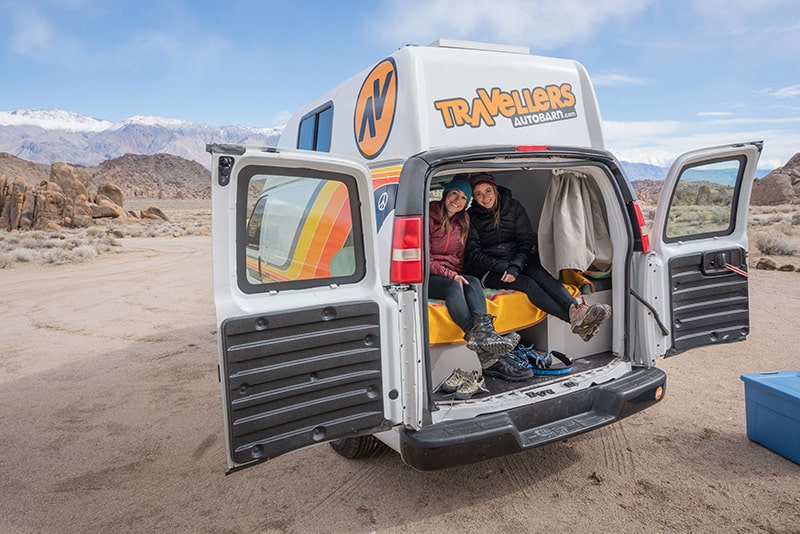 KITCHEN
All our campervans come with a proper kitchen – a sink, gas cooker, fridge & microwave – and it is INSIDE THE CAMPER. A lot of other companies feature a kitchen yet it is in the rear of the vehicle and facing the outside – meaning you need to stand outside at all times when you would like to cook or even access your fridge – something rather unpleasant when it rains, if it is cold or if you feel like a snack in the middle of the night.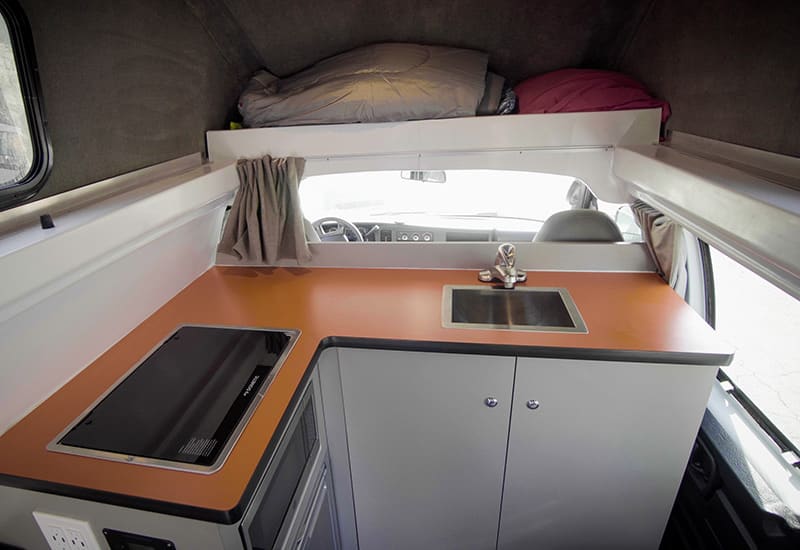 USB & 120V
All campers come with USB plug-ins which are charged by a second battery, meaning you can charge your phones & tablets at all times – very handy these days. The vans also come with 2*120V power plugs so you can charge any electrical items whenever you are at a powered campsite (note – this only works at a powered campsite).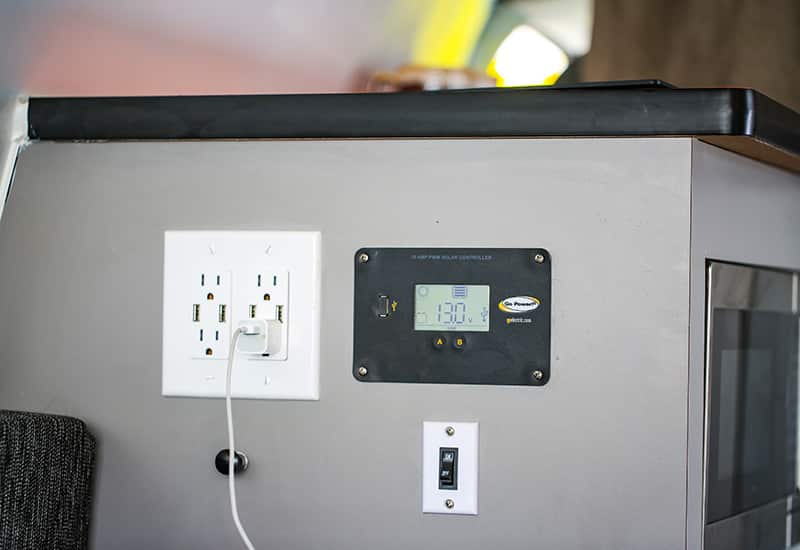 SEATING AREA
The camper seats quite comfortably 4 to 6 people at all times (note – during driving a maximum of 3 people are allowed inside the vehicle). Handy when meeting friends or other campers on the way and would like to sit together. It also functions as an eating area with a big table – meaning you can eat inside the camper – something again rather unique as with most other campers you actually need to sit outside to eat breakfast/lunch/dinner.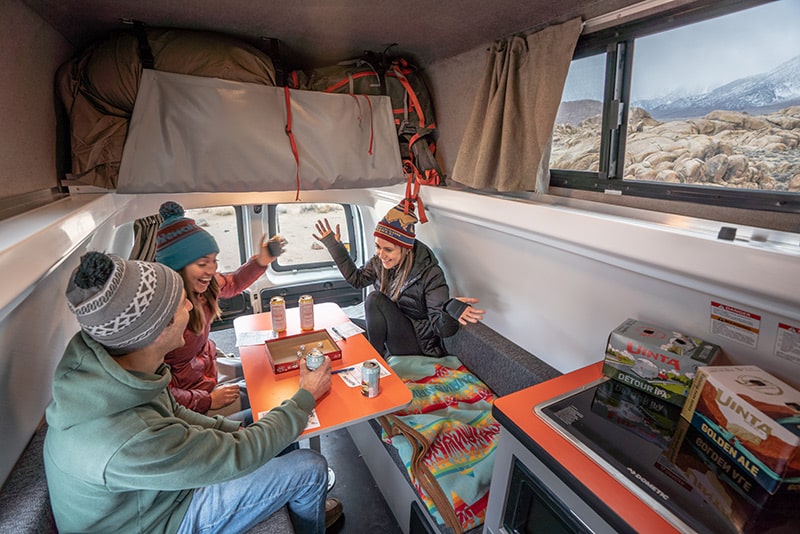 SOLAR PANELS
Our Kuga Campervans come with solar panels meaning your second battery will be charging at all times when the sun is out. The second battery charges the internal lights & USB ports, as well as the refrigerator, so this is a very handy addition to your campervan rental.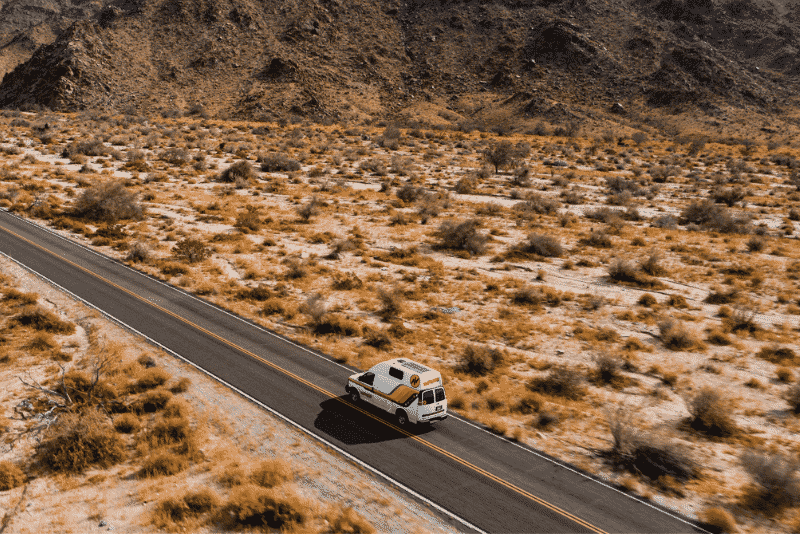 FREE UNLIMITED MILES
While it is not part of the actual camper – it comes as part of each rental. FREE UNLIMITED MILES means no pre-organizing of the exact trip you will be taking… or any other fees at the end of your rental! IMPORTANT – always check the total price with other campervan providers – the daily rate might look rather cheap, yet when you need to add an additional $25/day or $35/day for miles it will add up very very quickly!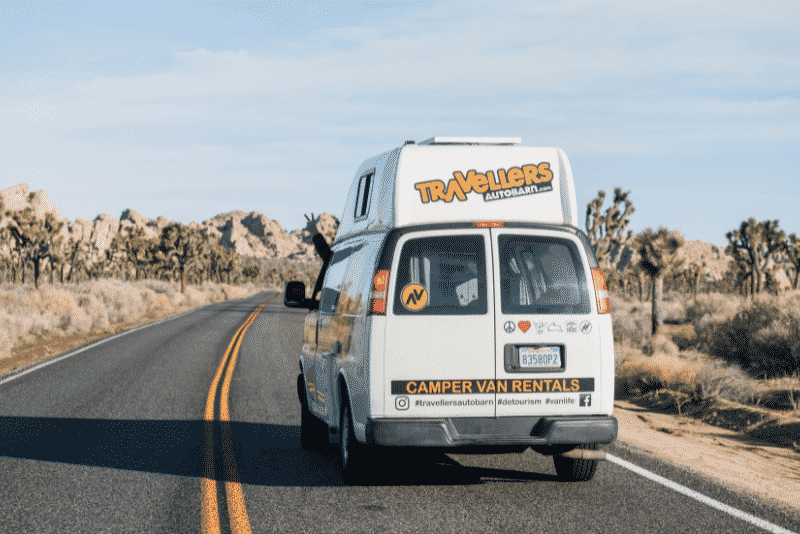 DISCOUNTED CAMPGROUNDS
The USA is home to thousands of campgrounds that you will find to be excellent places to base yourself during your adventures. Through Travellers Autobarn's partnerships, you can receive a 10% discount at many campgrounds all around the country, making your road trip even more affordable!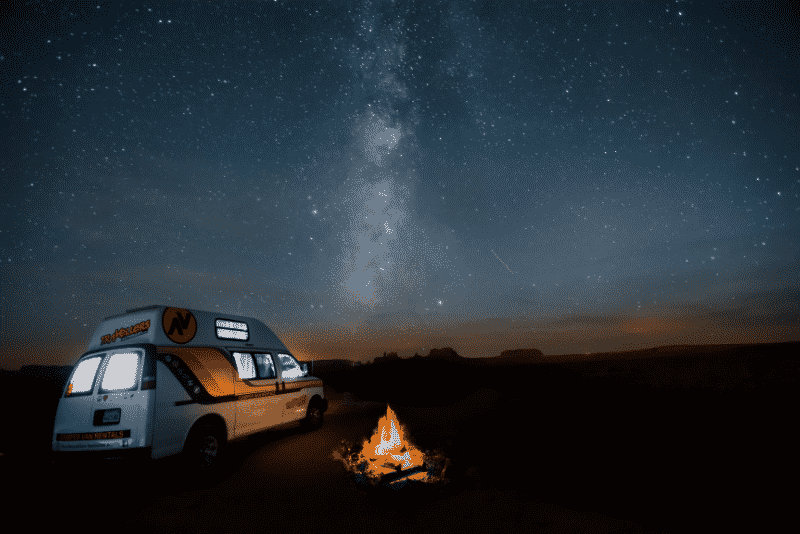 Campervans for the budget conscious and young at heart! Looking to embark on a budget road trip ? Then you can't beat a Travellers Autobarn campervan. If you're looking for something shiny and new with a toilet and shower then this is not the van for you. We specialise in the true spirit of adventure and camping lifestyle. Practicality and value are our drivers. Simple vans at a great value price.  We build our campervans on used Chevrolet Express Vans, the vans are generally about 5-7 years old but the interior build outs are new when they enter service with Travellers Autobarn. We are different to other RV businesses. Our vehicles are built with the renter in mind and we design and supervise the build.
Our campervans are very popular so they will show signs of normal wear and tear. Our customers take our vans to the beach, to the mountains, to the desert, in the height of summer and depths of winter…. Sounds exciting doesn't it? And it is exciting. The vans are always in nature, near campfires, in the  rain and the snow. People cook and sleep in our vans. They are not airport rent-a-cars.
ALL our vans also come with UNLIMITED MILEAGE – Hooray I hear you say! Unlimited mileage will generally save you many $$$$$$$ But there is a trade off, your campervan that includes UNLIMITED MILEAGE will also come with lots of mileage. If you want a new van with low miles and higher costs then this is not your van
Are you ready for a road trip? Get a quote today – if you have any questions contact us and we are happy to address any questions you might have.