Blog Feature Article
Experience Yellowstone & Grand Teton National Park In A Campervan
Can you think of a better way to watch the world's most famous geyser, "Old Faithful," or experience the beauty of the rising peaks of the Teton Range than firsthand in a decked out, converted campervan!? Neither can we.
That's why we put together this article- jam-packed with all the details for a phenomenal experience, so you can get the most out of your voyage. Best of all? You can stay right in the park in your fully equipped Travellers Autobarn converted camper van. For this amazing trek, we recommend planning on a 2-3 week road trip to experience all that Yellowstone and Grand Teton National Park offer.
So what are you waiting for? Reserve your campervan today and enjoy unlimited miles on us! And without further ado, let's get to the good stuff!
Yellowstone National Park
Established by Ulysses S. Grant in 1872, Yellowstone National Park was the first national park in the U.S., and it's one of our all-time favorites. It's easy to understand why this park is beloved by so many when you consider its two million acres of lush wilderness and breath-taking natural wonders.
Believe me, the real thing is even better than you could imagine, so putting a little effort into planning will pay off in a big way when you get there! Reservations for Yellowstone campsites open up May 1 of the prior year for summer and March 15 the prior year for winter. Plan accordingly! You'll be glad you did.
Yellowstone is best known for its geysers and waterfalls but its stunning scenery doesn't end there. Some of its other natural wonders include petrified trees, naturally occurring rock arches, and lava formations. Speaking of lava formations- get ready to break out your cameras because Yellowstone features some of the most vibrantly colored hot springs and mud pots, thanks to the volcanic power underneath its 3,500 square miles of bedrock.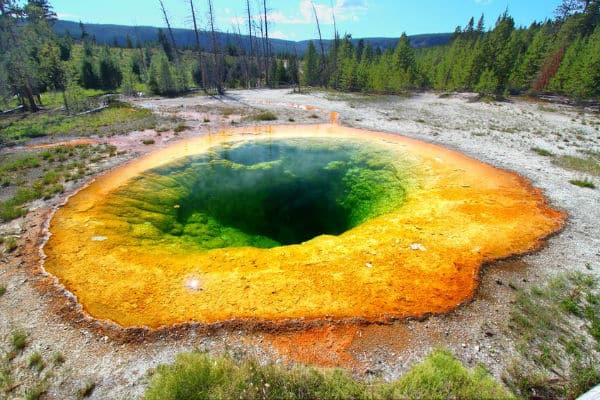 Some hot spots (no pun intended) to check out while you're there include the Upper Geyser Basin which is the home of Old Faithful and hosts the largest concentration of geysers in the world! Yellowstone Lake is the largest freshwater lake in North America- covering 136 square miles. The boardwalk above the steaming hydrothermal features of Mammoth Hot Springs is a great opportunity to behold the beautiful formations created over time by calcium carbonate deposits. Finally, the Grand Prismatic Spring is a must-see. It is the most photographed feature in Yellowstone because of its unbelievably bright colors and its enormity.
In addition, you'll find almost 300 species of bird and 67 species of mammals- including two different species of bear. There are also many species of fish, amphibians, and reptiles. Make sure to observe from afar as wild animals can be unpredictable and aggressive, particularly if they are with their young. A good pro tip is to wear a bell or make noise every so often to alert the nearby animals so you do not walk up on one and startle them.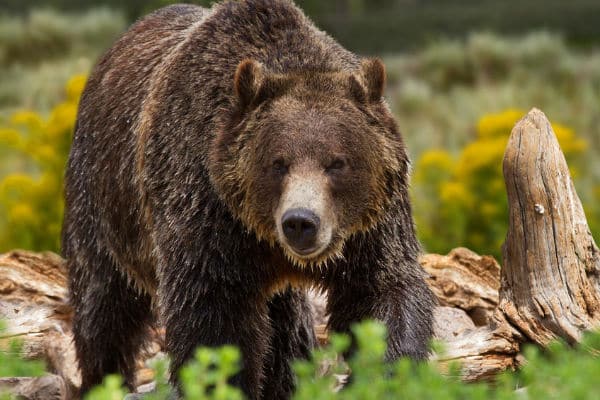 Are you a hiker? If so, Yellowstone has 900 miles of hiking trails and they require no permit to hike during the day. You can check in with their backcountry situation report ahead of your hike to make sure your planned route is safe and download National Parks by Chimani which is a free app that includes GPS maps that can be used offline. It's a good idea to wear hiking shoes and pack provisions, plenty of water, and bear spray just in case.
If you start early, preferably after sunrise, you'll avoid issues with parking or crowds. You also have a better chance of witnessing some wildlife that are typically more active at sunrise and sunset. Just be alert, cautious and again- keep your distance!
Another option is to traverse the park by bike. Bicyclists are welcome on the public roads and designated routes. However, park officials recommend extreme caution when riding on park roads, as the winding roads and heavy traffic can cause poor visibility for drivers. If none of those options sound appealing, a third possibility is a guided tour via horseback through some of the beautiful trails Yellowstone offers.
When it comes to campsites, one of our personal faves, is Yellowstone Grizzly RV Park located in West Yellowstone, Montana. The campground is just four blocks from the west entrance gate at Yellowstone National Park and includes dining, shopping, and attractions all within walking distance. All the RV campsites have creature comforts including full hookups with 30 to 50 amp electric, along with water, sewer, cable TV, and Wi-Fi.