The RV and camper van rental industry is a more than $400 million business. It's perfect for the avid camper or road-tripper seeking adventure. Plus, here in the United States and all over the world, there are so many idyllic places to explore.
California is full of gorgeous national parks and bustling cities. However, with so much to see, it's easy to feel overwhelmed. That's why we've compiled this itinerary for national parks in the Southwest.
Use this guide to plan your trip, and you'll get to see some of the best locations California has to offer.
Los Angeles to Joshua Tree National Park
Stop 1 (131 Miles)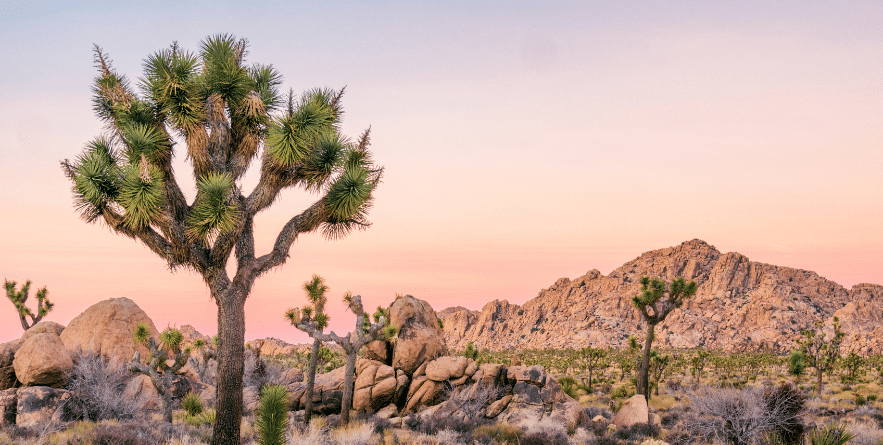 Once you grab your bags and get your campervan in Los Angeles, head on the road and set the GPS for Joshua Tree National Park. The trip is approximately 131 miles.
Along the way, you might want to take a few stops. We recommend visiting San Bernadino to stretch your legs. The San Bernadino National Forest is worth checking out while on your way to your next destination.
Joshua Tree National Park is known as the spot where two deserts meet. It's the ideal place to experience the beauty of the Southwest since you get to see both the Colorado and Mojave deserts.
This national park is a popular one, as shown by the latest statistics, which state that 3,064,400 people visited it in 2021.
If you plan to stay, you'll get to camp out among the surreal landscape and iconic Joshua trees. It's also a great spot for a hike. At night, you can lie back and look up at the dark starry sky.
Joshua Tree to Grand Canyon National Park
Stop 2 (361 Miles)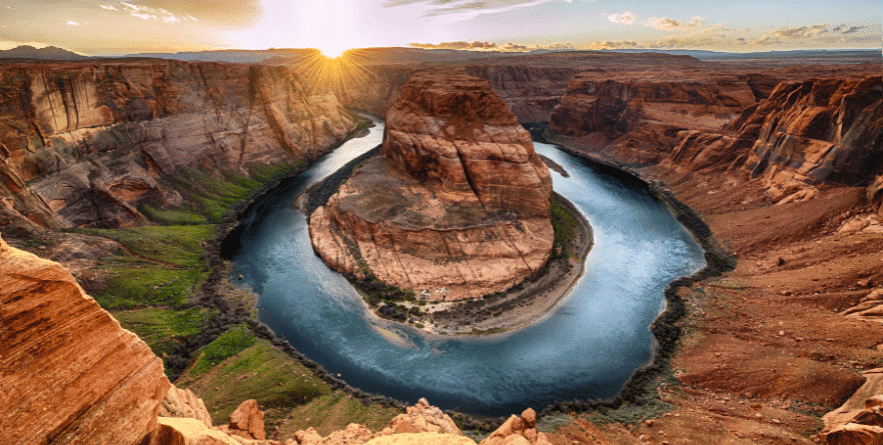 Your next stop is Grand Canyon National Park, which is roughly 361 miles away.
On your way, stop by Lake Havasu City. It's full of interesting trails, and there's a lot to do on the lake as well. Cool down and relax on the beach or partake in some bird watching.
When you're ready, get back on the road and head to the iconic Grand Canyon, which is a must-see destination for any road-tripper.
Approximately 5 million people visit the Grand Canyon each year, and it's easy to see why. The stunning and awe-inspiring stretch of land tells a story of the Southwest like no other area can.
It took between three to six million years to form as the Colorado River carved its way through. The rocks still outline the history of the geological events that formed it.
There are plenty of campgrounds in the area that allow you to experience the beauty and serenity of this area.
Grand Canyon to Monument Valley
Stop 3 (151 Miles)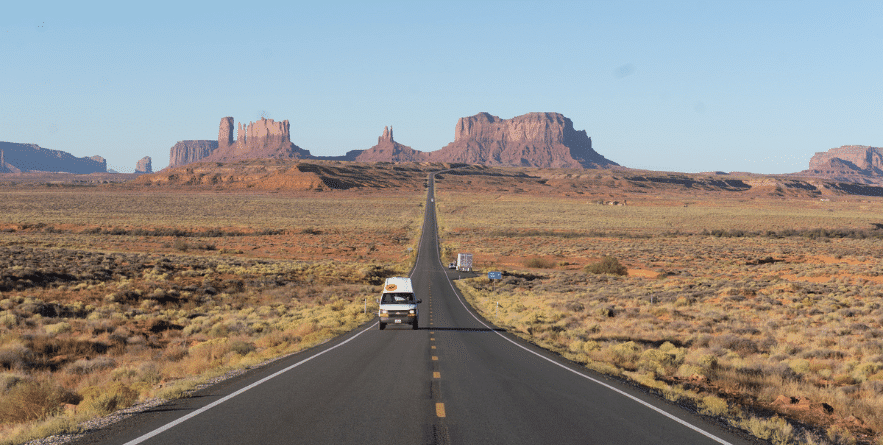 The trek from the Grand Canyon National Park to Monument Valley is approximately 151 miles.
Since it'll take about two and a half hours, depending on the conditions, you could stop by the Navajo National Monument. Here you can see signs of ancient settlements of the Anasazi or Ancestral Puebloan. It's truly like looking back in history.
Monument Valley is an area that's on the Arizona-Utah border. The Monument Valley Navajo Tribal Park is a stretch of majestic landscape that captures the essence of the Southwest. It's the perfect place to visit in your California campervan rental.
The landscape is full of natural sandstone towers that dot the vast desert region. Stop at the visitor center to see gorgeous panoramic views and learn more about the guided tours.
Don't forget to show your support for local Navajo vendors and buy some art or try native food.
Monument Valley to Arches National Park
Stop 4 (153 Miles)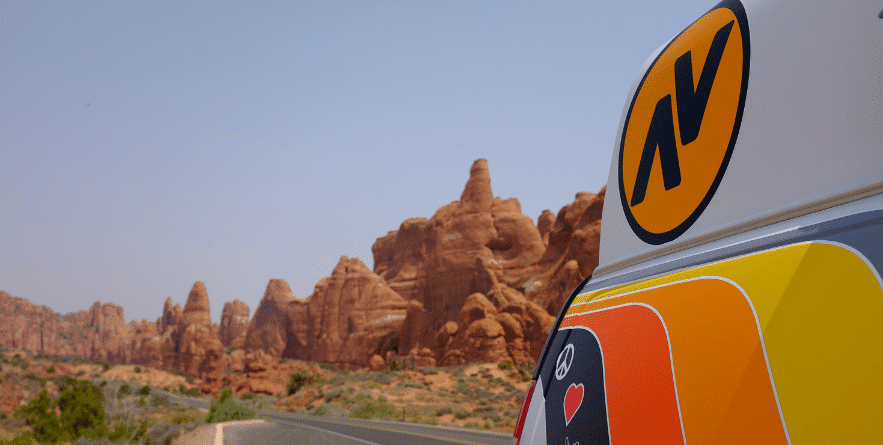 The next section in your Southwest national parks itinerary is a trip from Monument Valley to Arches National Park. The trip is about 153 miles.
There's quite a bit to see and do on your way. If you feel like stretching your legs and taking a hike, the Wildcat Trail is a fairly short trek that takes you around the base of West Mitten Butte. You can get some great pictures of the rocks here.
If you're looking for a picturesque area as you continue along your national park tour, we recommend stopping by the Valley of the Gods. As you might expect from such an impressive name, this spot is filled with mesas, sandstone buttes, and other iconic geological features.
Arches National Park is filled with more than 2,000 stone arches, hence the name. There are also plenty of rock fins, balanced rocks, and other impressive sights to see and photograph.
You have plenty of trails to explore, and you can even bring your campervan to Devils Garden Campground to stay the night.
Arches to Canyonlands National Park
Stop 5 (26 Miles)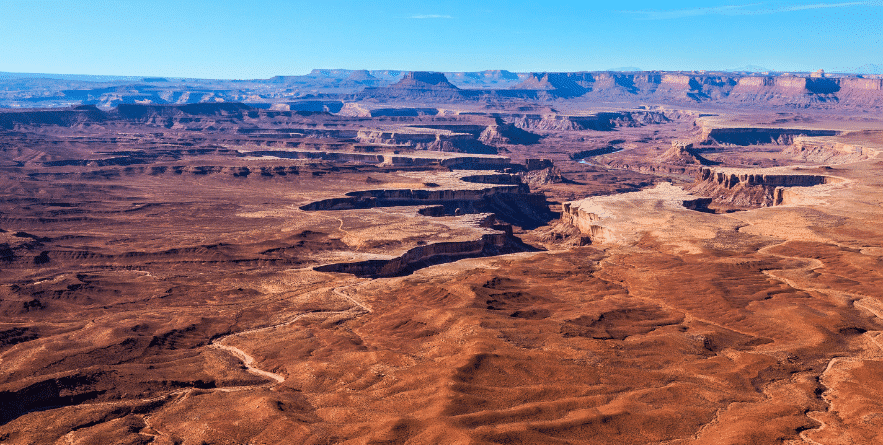 Ready for your next stop on your tour of the best national parks in the Southwest? It's about 26.2 miles away.
This short trip is worth it, as this part of Utah is well known for its dramatic desert landscapes. There are countless canyons and buttes to see created by the Colorado River and its tributaries.
There are actually four districts to explore: Island in the Sky, The Maze, The Needles, and the rivers. Each spot offers something unique to see, so make sure you plan enough time to explore the park in-depth.
Canyonlands to Bryce Canyon National Park
Stop 6 (256 Miles)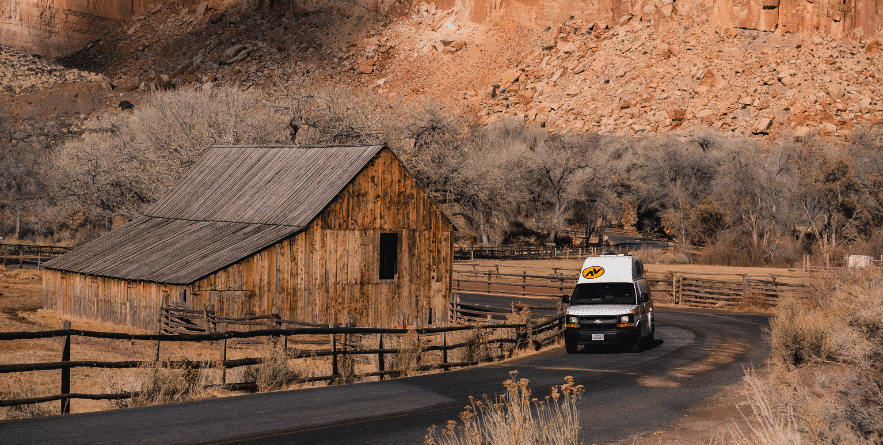 Next up, grab your bags and get back on the road to head to Bryce Canyon National Park, which is roughly 256 miles away or slightly more, depending on the route.
Along the way, you might want to make a detour and check out Capital Reef National Park. The visitor center is a great way to learn about the different hikes. The Hickman Bridge trail is a roundtrip trek that travels around a towering natural stone bridge and gives you a nice view of the river.
Bryce Canyon National Park in southern Utah is known for its iconic red hoodoos or spire rock formations. In fact, Bryce Canyon has the largest concentration of hoodoos on the planet.
The stunning geological formations here are worth taking your time to view and the scenery makes for excellent photos.
Not only can you hike and camp in the area, but you can also explore the majestic canyon on horseback on a guided or private horse ride.
Bryce Canyon to Zion National Park
Stop 7 ( 72 Miles)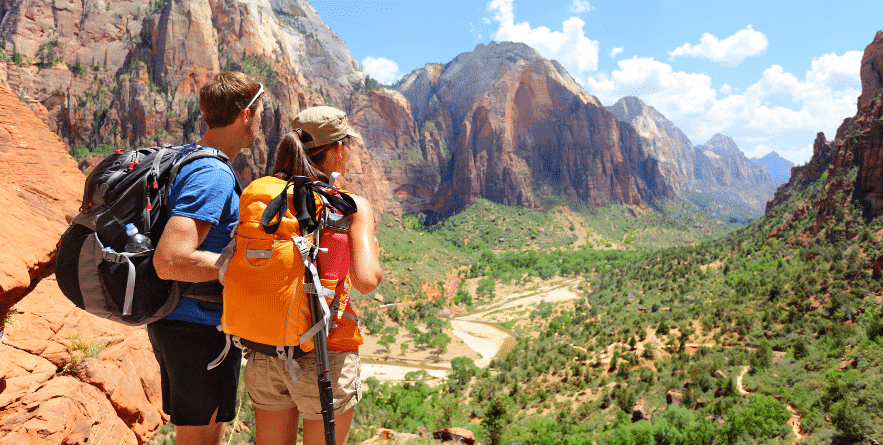 The trip from Bryce Canyon National Park to Zion National Park is approximately 72 miles.
Along the way, you might want to stop and view Red Canyon, which is full of crimson-colored hoodoo formations. There are many short trails along the area for hiking or biking.
The Rock Stop is a great place to see if you're in the mood for some shopping. This shop sells rocks, crystals, and souvenirs. It's also a good place to grab a coffee.
When you're ready, head to Zion National Park, which is Utah's first and oldest national park. It's a must-see stop on your campervan tour.
There are three campgrounds to choose from: Watchman, South, and Lava Point campgrounds. Make sure you check the season to see if the camping area you want is open.
If you stay for sunset, you can view the park's stunning cliffs turn a picturesque reddish orange. And after, you get to see the beauty of the stars over the cliffs.
Zion to Las Vegas
Stop 8 (152 Miles)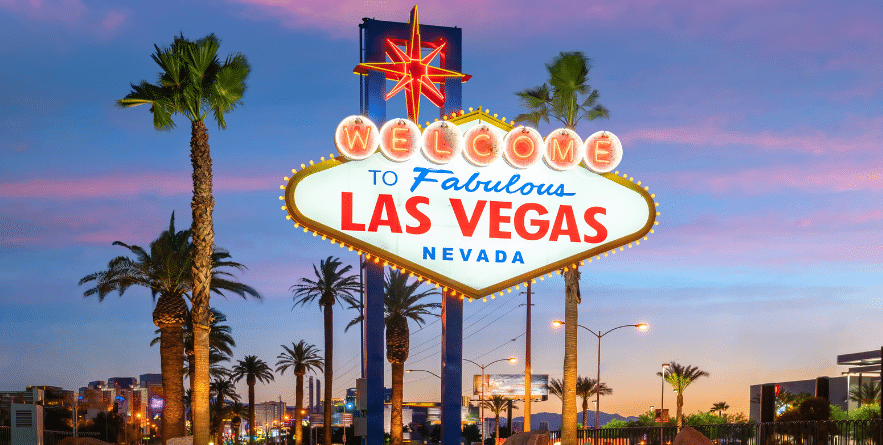 If you're in the area, you have to visit Las Vegas at least once. It's also one of the best ways to round out your tour of national parks in the Southwest.
There's no shortage of sights, shops, restaurants, and entertainment to experience in the city, even if you're not into gambling. Experience some of the best food around, explore The Strip, check out some fascinating museums, or take a ride on the High Roller, the second-largest Ferris wheel in the world.
The nearby Red Rock Canyon National Conservation Area is great for visitors who want to experience the beauty of the area. A trip to the Hoover Dam Bypass is also worth your time.
Las Vegas to Los Angeles
Stop 9 (270 Miles)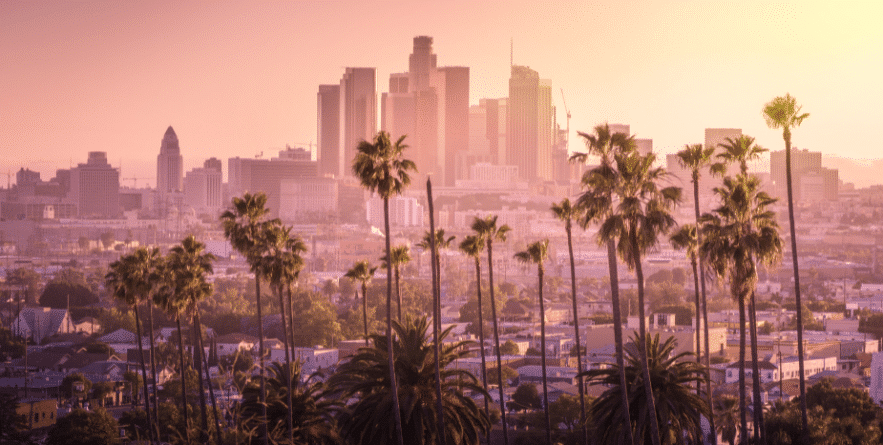 When it's time to head on the road and finish your trip, the trip back to Las Angeles is around 270 miles. Of course, there are still places to explore before you end the journey.
For instance, what would a tour of Southwest be without a visit to a ghost town?
Calico is a former silver mining town located in San Bernadino County. Founded in 1881, visiting this area is like looking back into the past.
If you don't mind taking a detour, head to Big Bear Lake. It's known as a ski resort area, so it's great for a winter road trip, but there is plenty to do in the off-season. Take a break and have lunch at one of the restaurants or visit a chic boutique and pick up some souvenirs.
When you finish your trip, we make it easy to return your campervan rental in Los Angeles.
Visit the National Parks in the Southwest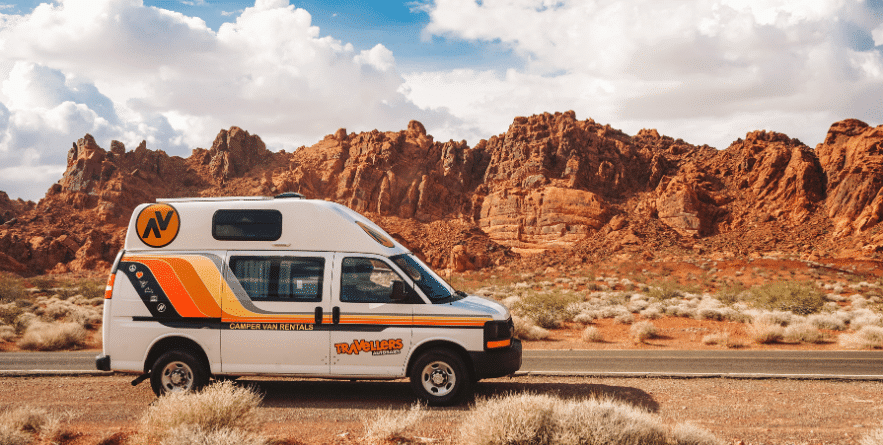 There are so many stunning National Parks in the Southwest to experience that you have to see them at least once in your lifetime. Renting a campervan is the easiest and most comfortable way to see everything on our list!
So, what are you waiting for? Our campervan and RV rentals feature convenient pickup and dropoff times, free unlimited miles, and other perks. Take a look at our selection and plan your next adventure.
Find Your Nearest
Travellers Autobarn

Location