In recent times, record-breaking rainfall coupled with seasonal wildfires has enticed glimmers of gold into the streams flowing from California's mountains. This glittering influx means the state is experiencing a second gold rush, 165 years after the last one.
This time it isn't wagonloads of prospectors making their way to the Golden State in search of their fortunes, but curious travelers keen for a glimpse of the days of yore.
If you'd like to take your family on an epic journey back in time, a campervan rental in Los Angeles is the best way to blaze your trail across Southern California. Tag along with us as we explore the best route for your RV campervan rental trip around California's Gold County.
Los Angeles - Sequoia National Park
Stop 1 (203 miles)
Your adventure starts when you book your perfect campervan from Travellers Autobarn and pick it up at our convenient location in bustling Los Angeles.
From there, you'll head out on Interstate 5 and California State Route 65 to get to your destination.
Just outside the city, the road slices through rugged hills on your way to Santa Clarita, where you'll come across your first potential pitstop, Six Flags Amusement Park.
You can indulge in an adrenalin fix on these thrilling rides or continue to Pyramid Lake for a more restful break from your trip with a picnic and a chance to stretch your legs.
After a twenty-minute drive along the road, pop into Fort Tejon to admire the surrounding forest of 400-year-old secular oaks.
Just past Bakersfield, take a detour to Colonel Allensworth State Historic Park and the Zalud House Museum for a glimpse of life during the time of the Gold Rush.
Continue on the I-5, and you'll come to the part of your trip that winds alongside the waters of Lake Kaweah. Along this stretch, you'll find abundant opportunities to stop and admire the water at rest stops close to the road.
The last leg of your trip takes you to Sequoia National Park, where you can park your campervan at one of the RV campsites outside the park and enjoy your evening surrounded by nature.
Sequoia - Yosemite National Park
Stop 2 (138 miles)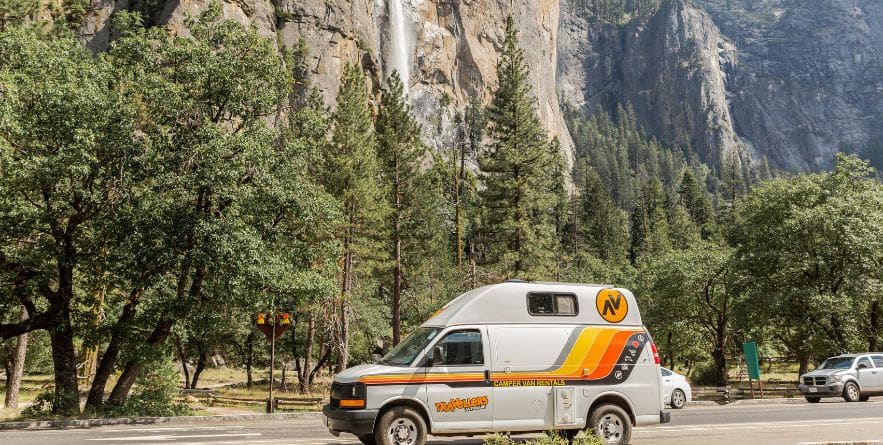 With a shorter route ahead, you can afford to spend an hour or two hiking amongst these huge trees and enjoying some of the sights on offer, or take a drive along the Generals Highway to see General Sherman's Tree.
When you get your California travel plans back underway, continue along the Generals Highway, or backtrack to the entrance and drive to Fresno where you'll take the CA-41 to Oakhurst.
At Oakhurst, you'll join the official Gold Rush route. The Coarsegold Village just outside of town offers fascinating insights into these times with beautifully preserved historic buildings and fun activities.
On your way out of town, don't forget to stop for a photo with the famous Talking Bear at the corner of Highway 41 and 426.
Other historic stops in this area include Mariposa, where you can check out the California State Mining and Mineral Museum, and Coulterville's Hotel Jeffrey.
It's a short trip from these small towns to Yosemite National Park. It's best to spend a few days exploring the park and its many attractions if you haven't been here before.
The park is well-equipped for campervan travel with seven campgrounds that can accommodate RVs.
Yosemite - Lake Tahoe
Stop 3 (124 miles)
If you're serious about your gold rush adventure, it only makes sense to pop into Chinese Camp on your way to Jamestown next. Once the home of thousands of Chinese gold miners, this ghost town is a historic landmark.
Jamestown is the site of two gold rushes in history and is filled with sites focused on these events. Most of the gold washed down from the hills this year seems to have ended up in nearby Wood's Creek, so be sure to try some gold panning while you're there.
Jamestown is also home to Railtown 1897 State Historic Park, Columbia State Historic Park, and the Sierra Railway, as well as many quaint historic buildings reminiscent of the Gold Rush era.
Continue your travels to Sonora, a picturesque historic destination where you can enjoy restaurants, galleries, and museums, including the Tuolumne County History Museum.
You'll need to take a slight detour to visit Angel's Camp, an extremely pretty town with strong ties to Mark Twain. If you're lucky enough to visit during the Calaveras County Fair in May, you might get to experience the iconic frog jumping contest.
When you finally reach Lake Tahoe, you'll find six campgrounds to choose from.
Lake Tahoe - Virginia City, NV
Stop 4 (36 miles)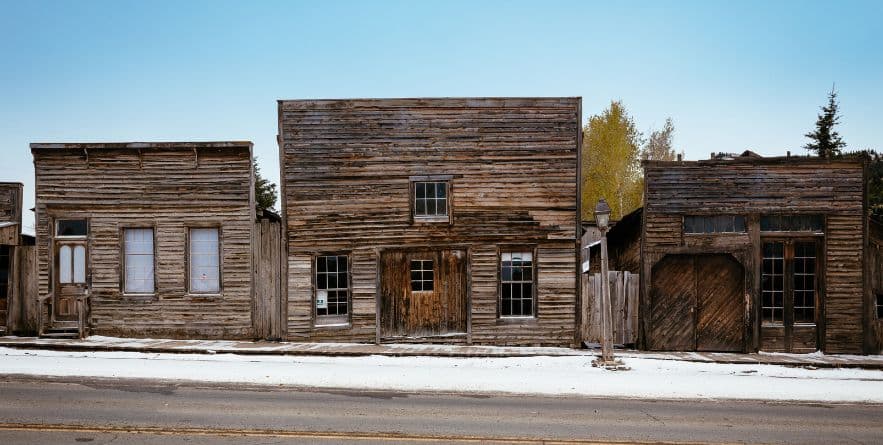 Thousands of people travel to California every year to enjoy the beauty of Lake Tahoe's cobalt-blue waters. Spend the day relaxing along its shores, hiking, or mountain biking. Take the gondola up to Heavenly to admire the views, or take to the waters on a jet ski or boat.
When you've got your fill of lakeside delights, it's just a short drive to your next stop.
Virginia City is an amazingly preserved town dating back to the 1800s. Once dubbed the richest place on earth thanks to its gold and silver mining activities, this city is an amazing showcase of Old West memorabilia and information.
Some of the don't-miss sites around here include:
Chollar Mine
Virginia and Truckee Railroad
Mackay Mansion Museum
Fourth Ward School Museum
Silver Queen Hotel
You simply must visit the Bucket of Blood Saloon for sandwiches, burgers, or ribs. If you dare, you can embark on a guided ghost tour of the town's most haunted spots.
There are a few RV parks in the area, including one located within walking distance of the town's attractions.
Virginia City - Sacramento
Stop 5 (157 miles)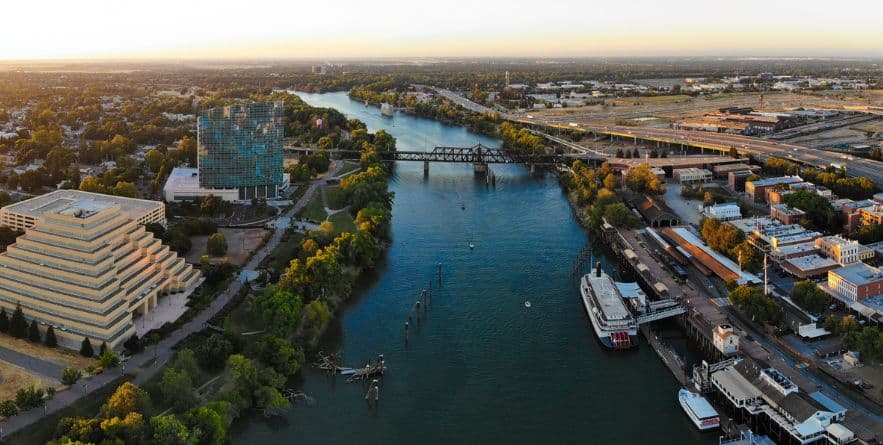 Be sure to check the road conditions before you take this trip over the mountains surrounding Lake Tahoe. Driving along these slippery slopes is weather-dependent.
There are many iconic gold rush towns along this route each offering unique attractions:
Reno – Chickadee Ridge and Tahoe Meadows
Truckee – Railroad Museum, Donner Lake, and quaint shops
Nevada City – the National Exchange Hotel and Nevada Theatre
Grass Valley – 15 blocks of historic buildings
Be sure to stop at Auburn, about 30 miles from Sacramento, for delicious burgers and home-baked pies. From there, take the Gold Discovery Loop Trail to Sutter's Mill, where the first gold flakes came to light, and then to Sacramento.
At Sutter's Mill, you'll find many accurate representations of these exciting times at Marshall Gold Discovery State Historic Park.
Sacramento is a treat with its bustling vibe and large historic district. Wood walkways, cobbled streets, and wagon rides will transport you to the days of yore in this part of town, and the city offers a host of modern-day attractions, too.
Sacramento - San Francisco
Stop 6 (88 miles)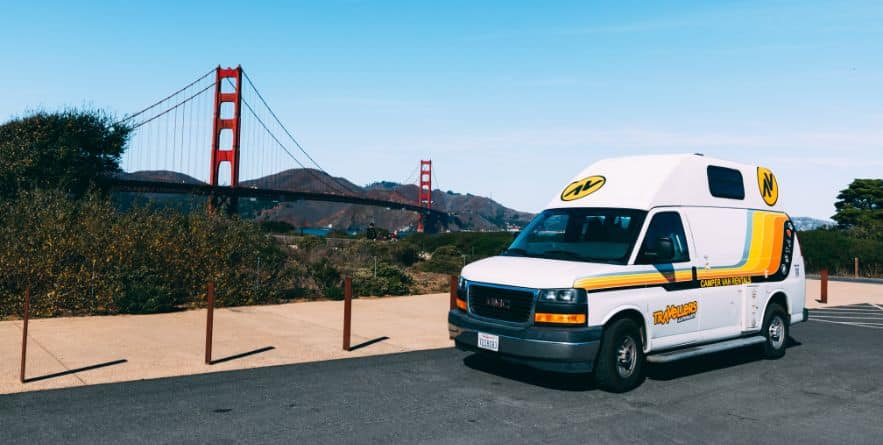 You're headed into wine country now, so it only makes sense to pick up some of the Napa Valley's best-known vintages along the way. You'll find wine farms in Napa, St. Helena, and Sonoma.
The latter offers an interesting showcase of colonial times and adobe buildings like the Mission San Francisco Solano and the Sonoma Barracks.
San Francisco played a pivotal role in the Gold Rush as a trade center and rest stop for travelers to the gold fields beyond. A City Gold Rush Tour will fill you in on all the details.
Although it's not a gold-rush-related activity, no trip to Sacramento is complete without taking the ferry to Alcatraz Island.
San Francisco is still an attractive option for travelers today, with many RV parks located nearby.
San Francisco - Santa Cruz
Stop 7: (77 miles)
This one-and-a-half-hour ramble is filled with interesting and scenic things to see and do. JV Fitzgerald Marine Preserve, Pillar Point Bluff, and Half Moon Bay offer miles of beaches to explore.
You can see a thriving colony of northern elephant seals at Año Nuevo State Park and snap a shot of California's most photographed lighthouse at Pigeon Point.
At Pescadero, you can visit a goat farm, grab an authentic Mexican taco at Alliance Gas Station, and stock up on artichoke garlic herb bread at Arcangeli Grocery Co.
Swanton Berry Farms offers fresh organic strawberries for picking and refreshing strawberry apple cider. You can also try your hand at gold panning at the farm or the nearby Roaring Camp Railroad.
You'll find a couple of RV parks dotted along the beach and marina in Santa Cruz.
Santa Cruz - Monterey
Stop 8 (43 miles)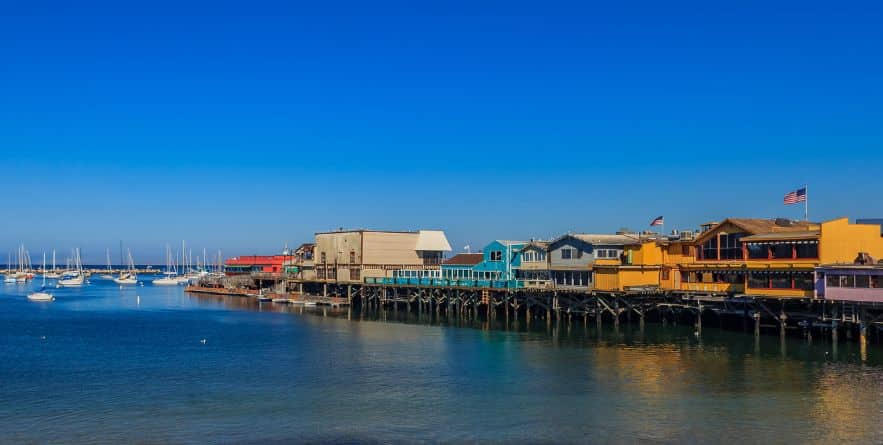 With only a few miles to travel, you can spend time enjoying some of Santa Cruz's top attractions. These include:
California's Great America Amusement Park
Happy Hollow Zoo
The Tech Interactive Museum
At Almaden Quicksilver County Park, you can view a closed-down mercury mine among the beautiful hills and wildflowers. Roaring Camp offers train rides through the redwoods to the Sant Cruz beach.
Stop off at Moss Landing for a boat ride to see the whales and continue on the scenic 17-mile Dr. when you reach Santa Cruz to witness some of the best views in the country.
Monterey, once the capital of California, has its fair share of historic sites like Cannery and Old Fisherman's Wharf, where you'll find scrumptious seafood dishes on offer.
When you've had your fill, pick a seaside RV park for your night's stay and let the sound of the waves lull you to sleep.
Monterey - San Luis Obispo
Stop 9 (141 miles)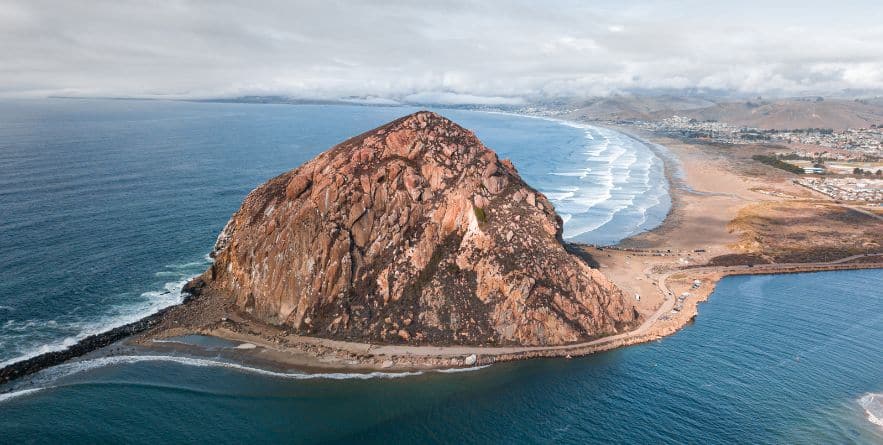 Take the North Coast Byway for a scenic blitz that takes in the glory of Big Sur. At San Simeone, you can visit the elephant seal rookery, browse among the treasures of the Hearst Castle, and catch a glimpse of the Hearst Ranch zebras grazing alongside the road.
You'll find a great selection of places along the way to stretch your legs by wandering among pine forests at Cambria, browsing quaint stores at Harmony, and strolling among the sands of Cayucos State Beach to Cayucos Pier.
Morro Rock is an interesting site to explore at Morro Bay on your way into San Luis Obispo, where you can spend the night in a nearby beach campsite or town close to the evening attractions.
San Luis Obispo - Los Angeles
Stop 10 (189 miles)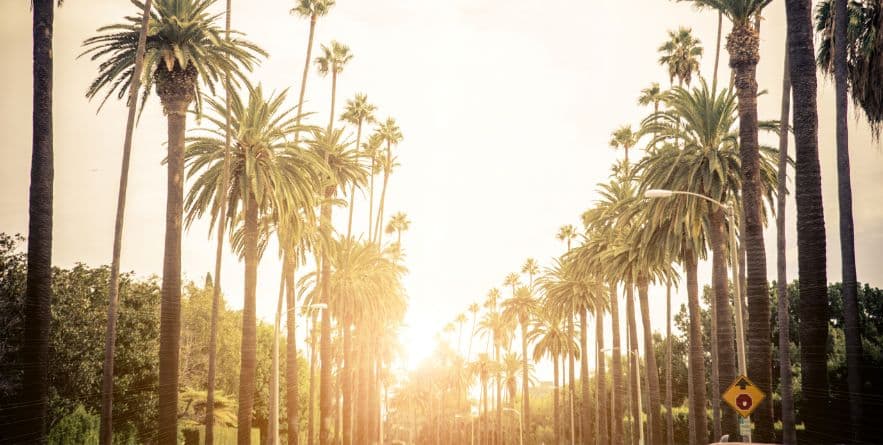 San Luis Obispo is one of the oldest communities in California, offering an interesting mix of things to experience. This bustling student town is a seaside haven surrounded by lush farmlands and filled with historic buildings.
You're sure to find something to do before heading home at the following sites:
Madonna Inn
Lopez Lake
Bubblegum Alley
Bishop's Peak
The San Luis Obispo Museum of Art
Fremont Theatre
Pismo Beach
Don't miss the chance to enjoy the city's burgeoning food scene at local restaurants and wineries just outside of town.
When you leave San Luis Obispo, you're in the home stretch, close to familiar sites. Be sure to pop into those you haven't explored yet along the way.
Campervan Rental in Los Angeles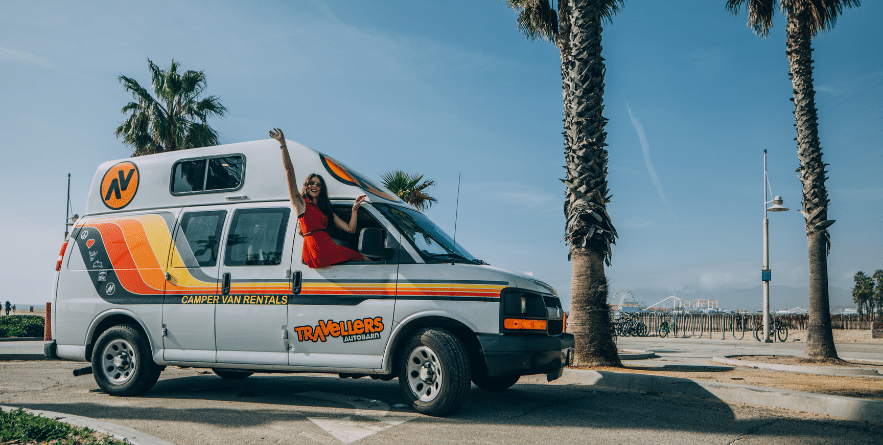 Your gold rush adventure starts when you book your RV campervan rental with Traveller Autobahn in Los Angeles. We offer a varied campervan selection to suit your every travel need.
Browse your options for campervan rental in Los Angeles today, and sign up for our newsletter for more travel inspiration.
Find Your Nearest
Travellers Autobarn

Location