California is home to more than 840 miles of scenic coastline. If you are searching for the best views in the California Coastal region, you must check out the Southern California coast.
The southern coastal region stretches from LA in Ventura County to the Mexican Border of Baja California. Touring this route will take you through diverse landscapes, from picturesque beaches to majestic mountains.
This area is a nature-lovers paradise known for its outdoor recreational activities. Surf the waves at beaches along the way or take a hike at one of the many Southern California state parks.
Are you ready to plan your visit to the coast of Southern California? Let us lend you a hand. Here are the essential destinations you must visit while exploring this beautiful region.
Santa Barbara
Stop 1 (94 Miles)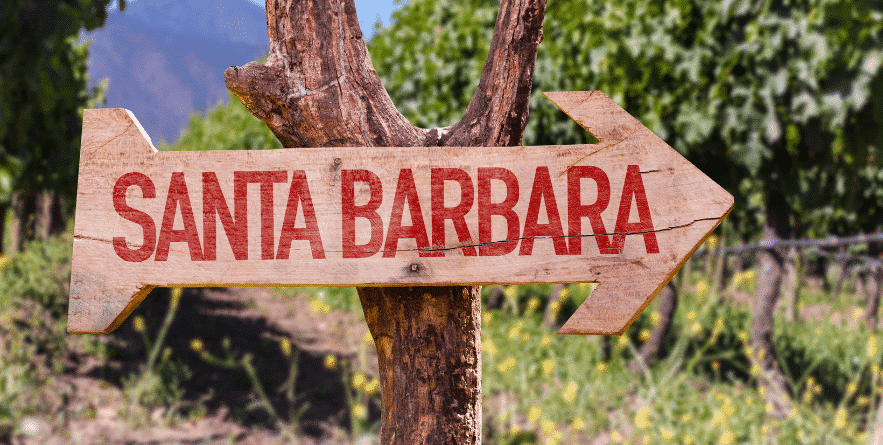 Whether or not you're flying into LAX, we recommend starting your coastal road trip in sunny LA. After all, it's only a handful of miles away from the American Riviera: Santa Barbara.
Santa Barbara is an upscale yet surprisingly laid-back coastal city. Lovers of nature, architecture, wine, and history alike will find something to do in this coastal city.
The way from LA to Santa Barbara is marked by charming coastal villages and some of the state's most beautiful scenery. Take the Pacific Coast Highway (PCH) instead of US-101 to get the most out of your drive.
Make your first pit stop in Malibu. Malibu is home to some of the most gorgeous beaches in California and the country, including Zuma Beach. Consider taking a quick detour to Ojai, where you can hike the historic Los Padres National Forest.
If you are looking for some small-town vibes, make sure to visit Oxnard and Carpinteria. Meanwhile, the Getty Villa Museum in Pacific Palisades is an ideal destination for California history buffs and garden enthusiasts alike.
San Luis Obispo
Stop 2 (95 Miles)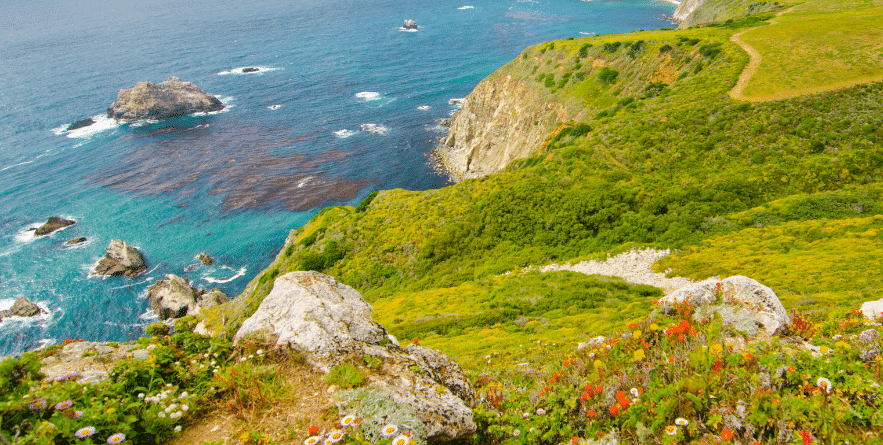 San Luis Obispo, also known as SLO, is a charming town with lively nightlife and plenty of outdoor activities. Perhaps that's why some people call SLO the happiest place in America.
The two-hour drive from Santa Barbara to San Luis Obispo offers the chance to see more of the state's beautiful beaches. Along the way, you'll also find a volcanic mound, unique architecture, and plenty of wineries.
Those in the mood for a glass of famous California vino can make a stop in Paso Robles. This city is well-known for its grape and olive groves. Kick up your feet at one of the many wineries in the area before resuming your drive.
Solvang is also known for its wineries, but we suggest visiting for the Danish architecture, too. But make sure to leave time to visit Morro Bay. The coastal city is home to Morro Rock Beach, which offers lagoons, saltwater marshes, and a must-see volcanic mound.
Big Sur
Stop 3 (170 Miles)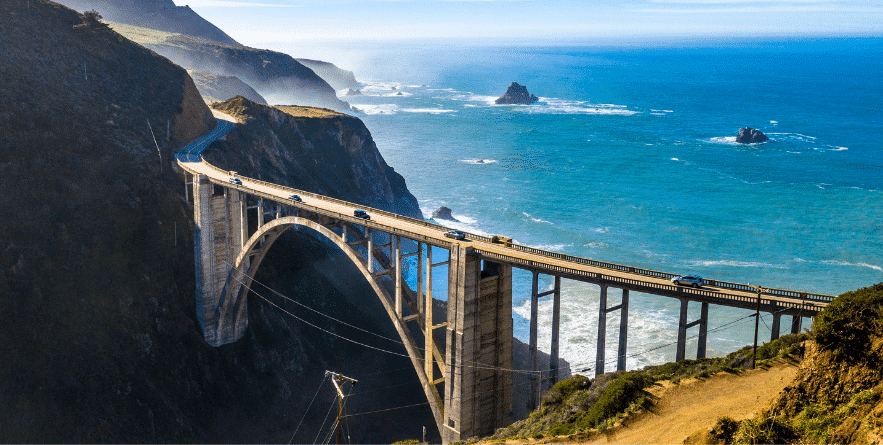 Big Sur is consistently ranked as one of the best places to visit in California. If you're planning a trip to Big Sur in 2023, consider taking the PCH from San Luis Obispo to see Big Sur's unique blend of mountain and coastal scenery.
On your way, make sure to stop by the Piedras Blancas to see elephant seals at play. The rookery at Piedras Blancas is home to nearly 25,000 seals that visitors can view from the many boardwalks in the area.
Hearst Castle, San Simeon, and Cambria are also ideal locations to get out and stretch your legs. If you prefer a hike to a boardwalk stroll, check out Estero Bluffs, a coastal state park with diverse wildlife and landscapes on display.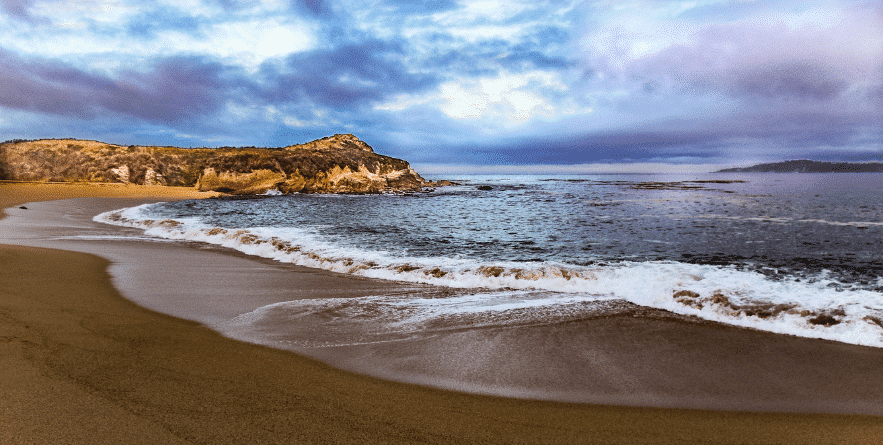 Monterey and Monterey Bay are known for their family-friendly attractions. Observe local marine life in action at the Monterey Bay Aquarium or attend one of the many summer festivals hosted in the area.
You'll also find tons of exciting stops on the quick drive from Big Sur. Make a day out of your trip and visit the small town of Carmel-by-the-Sea. Tourists feel like they've stepped inside a fairy tale when visiting this beach town.
You can scuba dive at Carmel River State Beach or go for a surf at Carmel Beach. This small area may surprise you with all it has to offer, including an opportunity to see real-life whales at Point Lobos State Natural Reserve's whaling museum.
San Francisco
Stop 5 (113 Miles)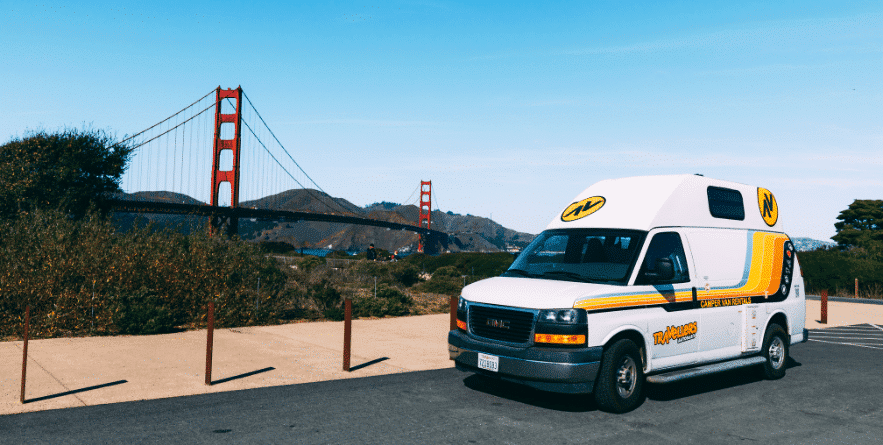 Not everyone considers San Francisco part of Southern California, but you should still consider adding it to your itinerary. This trendy city offers everything from food trucks and fine dining to fine arts and outdoor adventures.
Many travelers choose to take a detour to Silicon Valley on the way from Monterey to San Francisco. Silicon Valley is home not only to the world's top tech company headquarters but also to rolling hills and historic architecture.
Just before you get to San Francisco, you can stop in Half Moon Bay. The area offers plenty of outdoor scenery and activities, from surfing at Pillar Point to hiking the Coastside Trail and Purisma Creek Redwoods Preserve.
Santa Cruz
Stop 6 (73 Miles)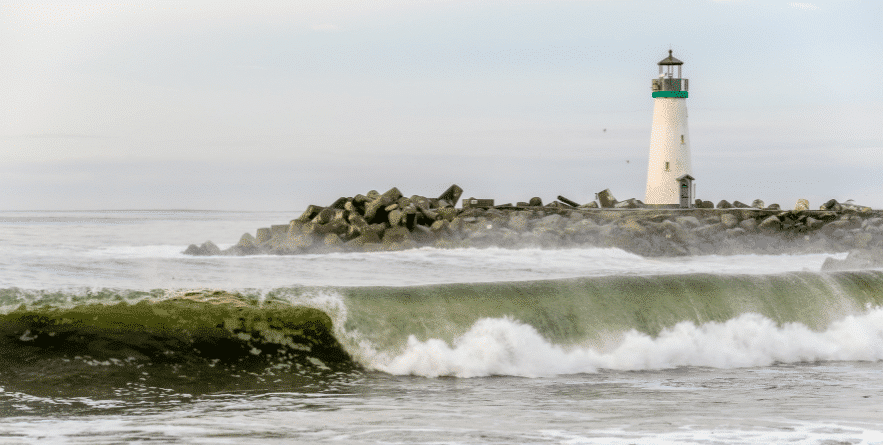 Santa Cruz is hands-down the best California destination for nature lovers. This city offers whale watching, surfing, hiking, and much more. It's also a hot spot for California's hippy culture and the home of the iconic Beach Boardwalk.
Before you get there, we recommend making a few stops along the way. The Fitzgerald Marine Reserve in Moss Beach is the perfect place to see the natural wonders California's central coast has to offer.
This route will also take you through California farm towns like Pescadero and Davenport. If you're looking for a spot to camp for the night, try Big Basin Redwoods State Park or Ano Nuevo State Park for great hikes and even better views.
Pismo Beach
Stop 7 (176 Miles)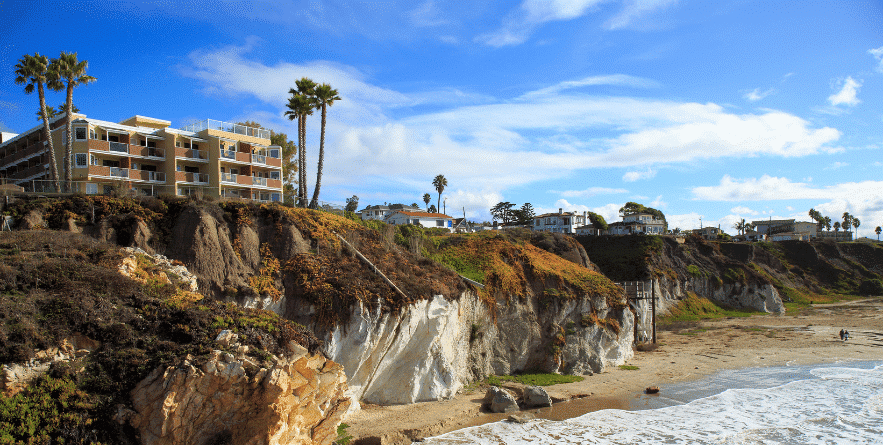 Pismo Beach is a prime Southern California vacation destination for Californians and out-of-state visitors alike. It offers more than 65 different restaurants and exciting events year-round. Plus, you can take part in outdoor recreational activities like:
Cycling
Tide pooling
Hiking
Horseback riding
Swimming
Scuba diving
Fishing
Other attractions at Pismo Beach include the Monarch Butterfly Gardens and Pismo Pier. But you'll have access to fun before you even arise. Check out Gilroy to visit the nature-surrounded Gilroy Gardens Family Theme Park.
With only a short detour, you can also access a myriad of state parks on the way from Santa Cruz to Pismo. They include Henry W. Coe State Park, the Elkhorn Slough National Estuarine Research Reserve, and Julia Pfeiffer Burns State Park.
Santa Monica
Stop 8 ( 174 Miles)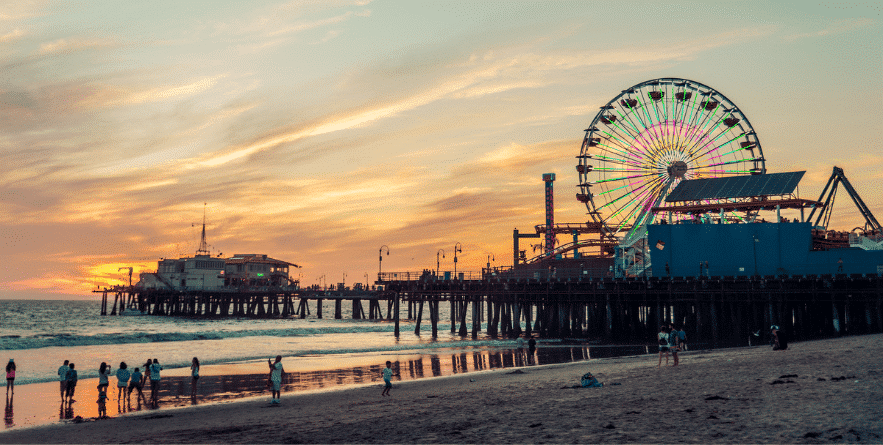 Santa Monica is one of the least laid-back stops on our list. Though it offers some of the coastline's best surfing, Santa Monica is more well-known for its upscale hotels and restaurants and swanky shops and clubs.
If you enjoyed Gilroy Gardens on your way to Pismo Beach, consider stopping by another local theme park. Six Flags Magic Mountain in Santa Clarita and the adjacent Hurricane Harbor water park offer family fun in the sun.
Nature lovers should instead consider visiting Jalama Beach County Park in Lompoc or Goleta's Refugio State Beach. These areas are not as crowded, so you can feel like you have the whole beach to yourself.
Los Angeles
Final Stop (17 Miles)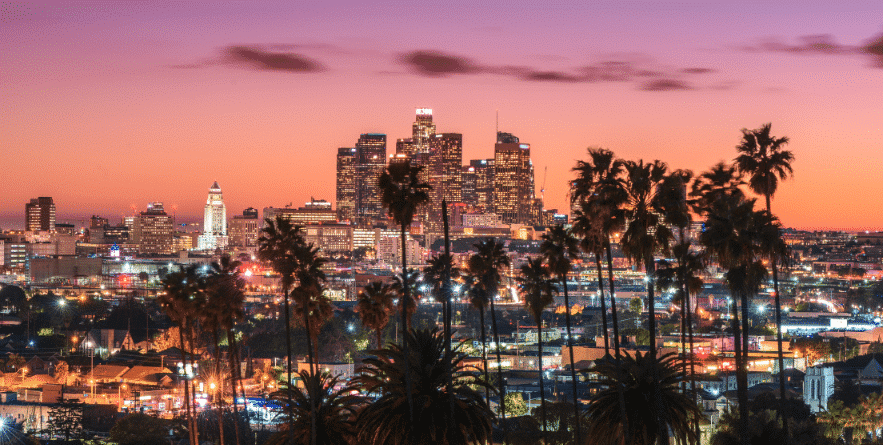 LA is the most famous and most-visited city in The Golden State for a reason. It has ideal weather year-round and accommodations for budgets of any size. Plus, it is the best place in the world for celebrity watching.
You can find plenty of outdoor activities in Los Angeles. True nature enthusiasts will also appreciate the Southern California attractions on the way from Santa Monica. Beach towns like Manhattan Beach offer the laid-back, coastal vibes you're hunting for.
Other detours to consider on the way include Redondo Beach, Huntington Beach, and Long Beach. These three beach cities sit side-by-side along Santa Monica Bay and offer incredible surfing and rowdy beach bars.
Book a California Campervan Road Trip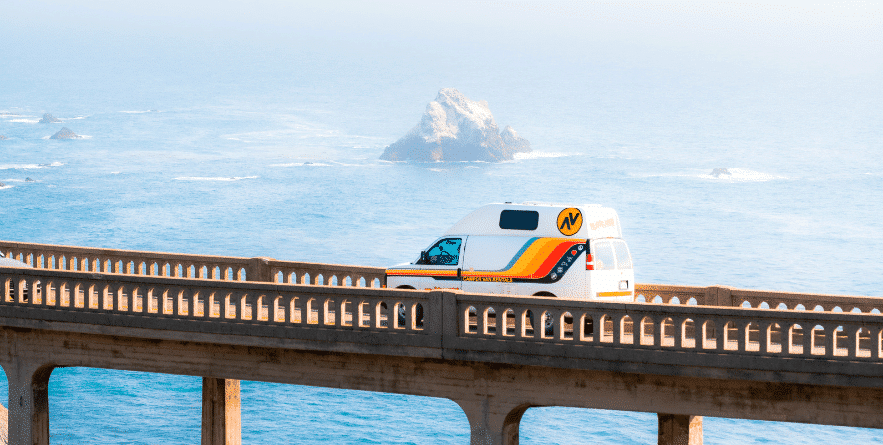 Traveling the Southern California coastline allows you to see beautiful beaches, visit laid-back hippy towns, and hike majestic mountains. Consider booking a coastal California road trip the next time you're looking for a vacation destination.
Are you planning a trip across the Southern California coast and need help getting there? Travellers Autobarn campervans can help you travel in comfort and style. Sign up for a free quote and book your coastal California campervan trip today!
Find Your Nearest
Travellers Autobarn

Location