According to a recent Visit California forecast, visitor spending is projected to reach $131 billion this year. People are flocking to The Golden State, and it's no wonder why. From beautiful weather to some of the best beaches in the world, you can't go wrong.
If you're considering taking a road trip, you might be thinking about getting a campervan rental in California and seeing the sights. When you rent with us at Travellers Autobarn, lots of sunshine, majestic mountains, and stretches of pristine coastline await you. Plus, you get to experience the perks and freedom of van travel.
We've got you covered if you're looking for an itinerary to see the most exciting and beautiful parts of the SoCal area. Use this information to guide you and begin your adventure.
Los Angeles - Santa Monica
Stop 1 (16 Miles)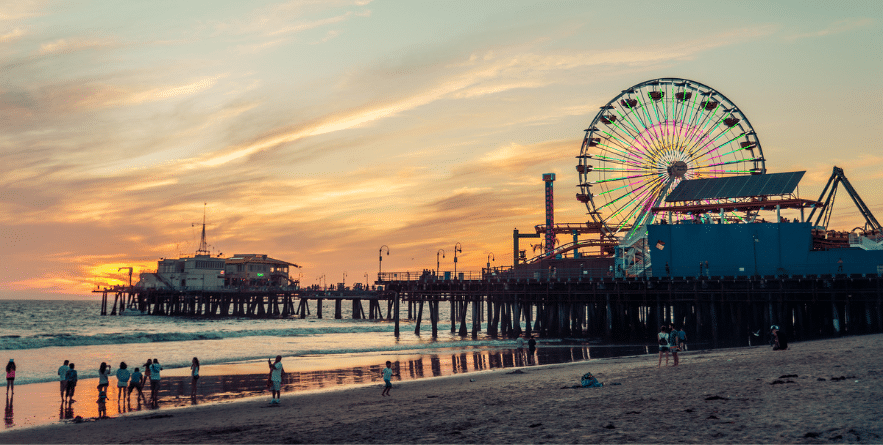 When you begin your trip with us, we make it incredibly easy to find the perfect campervan for your needs, whether it's just you or if you plan to bring the family.
Begin your trip in Los Angeles and experience some of the best entertainment the state has to offer. Take the kids to one of California's famous theme parks, like Universal Studios or Disneyland.
LA is also the perfect place to kick off your road trip. From here, it's about 16 miles to Santa Monica.
While you're here, be sure to visit the iconic Santa Monica Pier, which has its own amusement park. Beach culture is a huge part of the city, making it the perfect place to soak up some sun or try your hand at surfing and catch a wave.
Take it easy and relax on Santa Monica's 3.5-mile stretch of beach. When you get hungry, you'll find plenty of renowned restaurants, outdoor dining, and spots on the pier to grab a quick bite.
Santa Monica - Malibu
Stop 2 (13 Miles)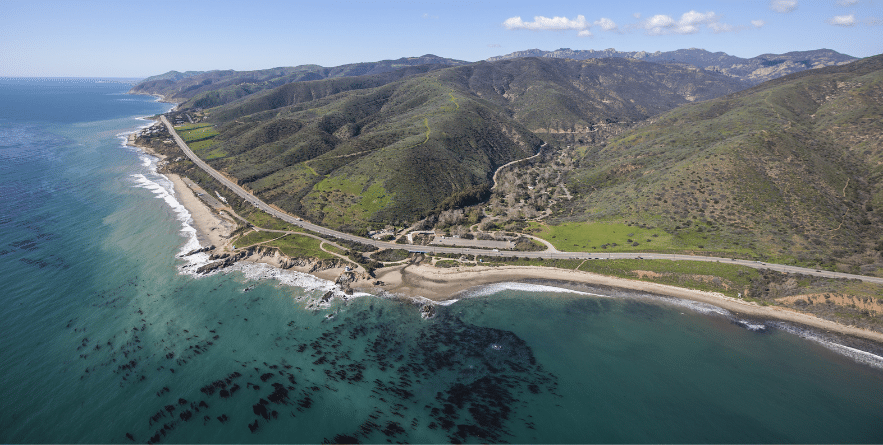 The trek from Santa Monica to Malibu is approximately 13 miles.
Along the way, you might want to stop at the Getty Villa, which is a museum that displays ancient Greek and Roman art. The location itself is also very beautiful, as it's in a replica first-century Italian villa.
The Getty Center features art dating back from the Middle Ages all the way through contemporary works. You also get spectacular views of LA, and you can relax as you stroll through the scenic gardens.
Malibu, California, is well known for its celebrity homes and stunning beaches. Some of the most popular spots include Zuma Beach, El Matador State Beach, and Point Dume State Beach and Preserve.
Not too far away is Solstice Canyon, located in the Santa Monica Mountains. There are plenty of hiking spots in the area, and this is an excellent opportunity to snap some photos and take in the panoramic views.
There are a few different places you can camp as well. Malibu Lagoon State Beach is the perfect spot for travelers who want to go fishing on the pier or catch some waves. If hiking is more your style, Malibu Creek State Park offers miles of trails through canyons and gorges.
Malibu - Ventura
Stop 3 (46 Miles)
The stretch from Malibu to Ventura is approximately 46 miles. However, we recommend taking your time, as there is a lot to see in the area. Plus, you can take as many scenic detours as you want with our free unlimited miles!
Check out Point Dume, which is a scenic beach featuring dramatic views of the Pacific Ocean. El Matador State Park and Leo Carillo State Park are also popular spots to visit, especially if you're interested in swimming or snorkeling and viewing the marine life.
Emma Wood State Beach is also worth a visit if you're looking for a laid-back atmosphere. It's a great spot to do some fishing or look for dolphins.
If you're looking for a taste of local life in the city, head to Ventura Harbor Village. It's full of local shops and spots to grab a bite.
Ventura Botanical Gardens, located north of the downtown area, is also worth your time. It's an excellent place to bring the kids and keep them entertained.
Don't forget to walk the Ventura Pier, which is the oldest pier in the state and a designated historic landmark. It's the perfect spot to catch the sunset. If you want to view another piece of history, you can't miss the Old Mission Basilica San Buenaventura.
Ventura - Santa Barbara
Stop 4 (27 Miles)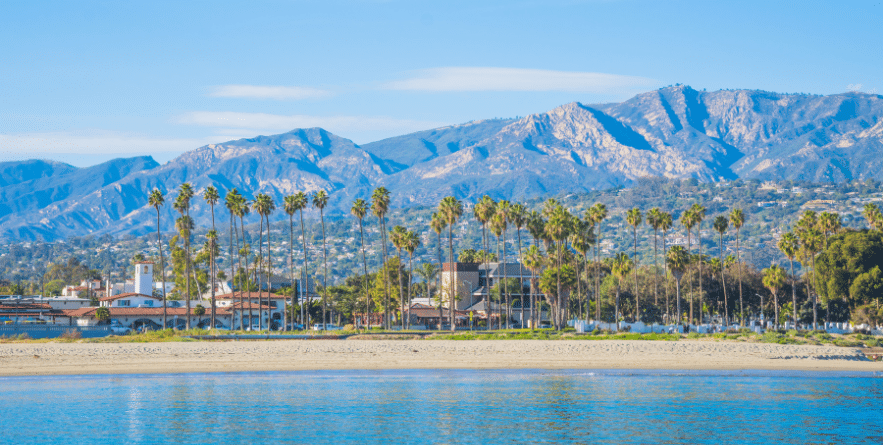 Next up, you journey from scenic Ventura to Santa Barbara, which is around 27 miles.
Along the way, you should stop at Carpinteria, which is ranked the best beach town in SoCal. Head to Carpinteria State Beach to enjoy the relaxed atmosphere, soak up some sun, and maybe camp for the night.
The nearby Carpinteria Bluffs Nature Preserve provides plenty of hiking trails, and you might even catch a glimpse of harbor seals.
As you head to your next destination, we recommend viewing the Santa Barbara Harbor. Visitors frequently head to the area to go kayaking, fishing, or to take boat tours. It's an excellent spot to set up a date night and keep the romance alive.
The beautiful Santa Barbara Botanic Garden is another worthwhile activity to add to your road trip itinerary. Take a relaxing stroll through the area and view some of the local plant life. The Japanese tea garden is also worth a visit.
One of the best parts of a California road trip is the amazing food you'll get to experience. So, when you get hungry, you can find plenty of mouth-watering options along State Street.
Santa Barbara - Solvang
Stop 5 (33 Miles)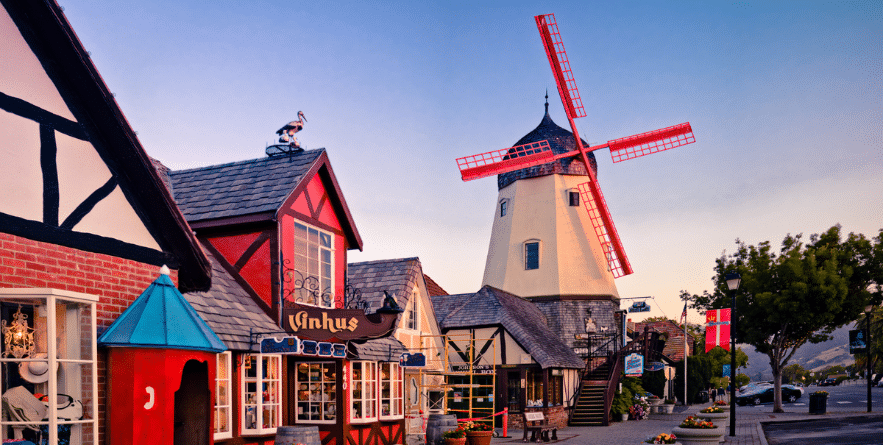 It's around 33 miles from Santa Barbara to Solvang. Along the way, you might want to see Lake Cachuma, which is a 3,100-acre man-made lake. It's a popular spot for boating and fishing.
If you take a slight detour, you can head to the Refugio State Beach. This idyllic stretch of coastline makes a great camping spot.
Do you love wine? If so, you should check out Gainey Vineyard and visit the tasting room to experience some of California's famous wines for yourself. You might also want to plan a road trip through Wine Country in the future!
While in Solvang, take some time to view the iconic Old Mission Santa Ines, which was established in 1804. Now it's an active Catholic parish, but there is also a museum and gift shop.
The city is well known for its Danish-style architecture, making it one of the more unique stops on your Southern California vacation. You can even view four windmills in the downtown area.
Another noteworthy spot is the Hans Christian Andersen Museum, which is small but free and pays tribute to the author and his work.
Solvang - Los Olivos
Stop 6 (6 Miles)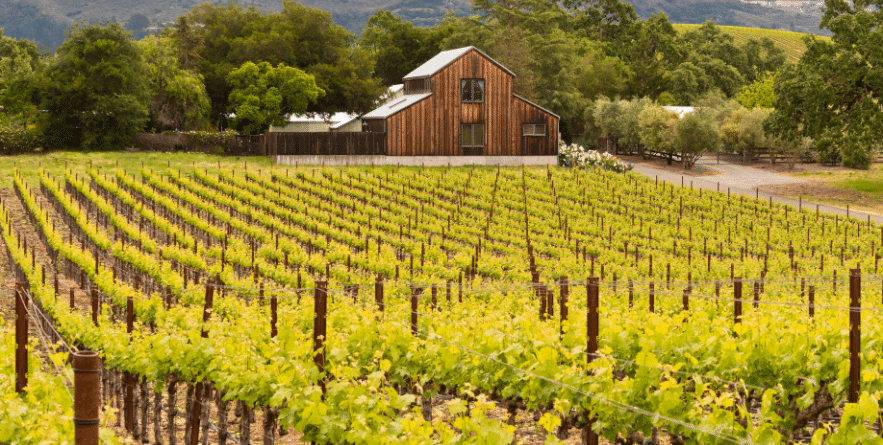 Los Olivos is only around six miles away. This charming country town is popular for its wine-tasting, art galleries, and chic boutiques.
This is one of the best places to see if you love exploring vineyards, orchards, lavender farms, and more. You'll see a variety of historic structures and there are plenty of options for wine tasting.
Some popular spots include Los Olivos Wine Merchant & Cafe, Clairmont Farm Lavender Co, and the Dragonette Cellars. The vibe is laid back and it's easy to fall in love with the country lifestyle.
Los Olivos - Santa Monica Mountains National Recreation Area
Stop 7 (97 Miles)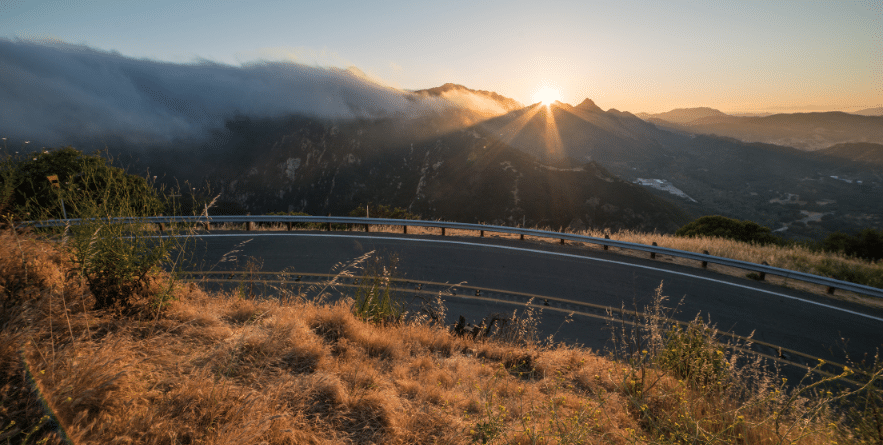 There's no shortage of things to do in the Santa Monica Mountains National Recreation Area, which is about 97 miles away.
Since there's so much to see and explore, you might want to spend the entire day here. The Backbone Trail stretches 67 miles, but even if you only take part of it, it's one of the best places in California for sightseeing. You'll get to experience the coastal Mediterranean habitat up close and view ocean vistas, deep canyons, and more.
The area also has over 500 miles of horse trails for equestrian lovers. Renting a horse and going on a guided tour is one of the most exciting ways to go California sightseeing.
The Santa Monica Mountains are also a popular spot for rock climbers of all skill levels.
If you're looking for a spot to camp, check out Point Mugu State Park or Topanga State Park.
Santa Monica Mountains - Los Angeles
Stop 8 (34 Miles)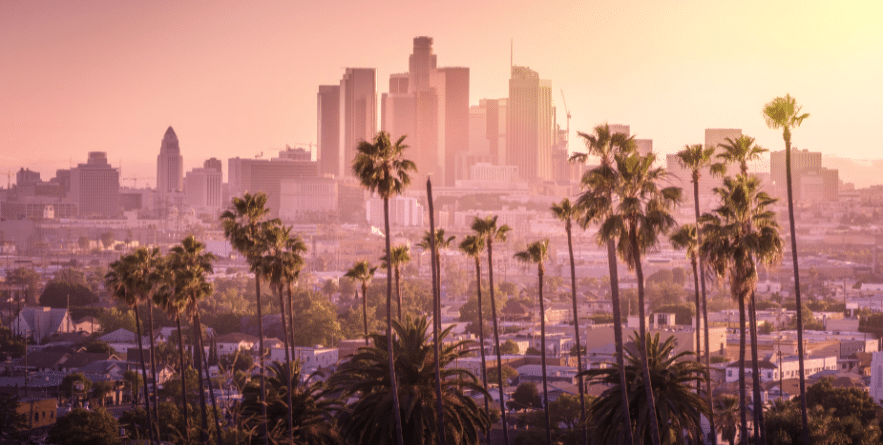 The last stretch of your California trip takes about 34 miles, depending on where you depart. Again, there's plenty to do in the city before you drop off your campervan!
Take the kids to Griffith Park and stop by the Los Angeles Zoo. Don't forget to check out the Griffith Observatory, as it's a great educational opportunity.
Plus, no Southern California vacation would be complete without a trip to the Hollywood Sign. It's the ideal way to end your trip before you return your campervan (until next time!)
Explore California With Campervan Rentals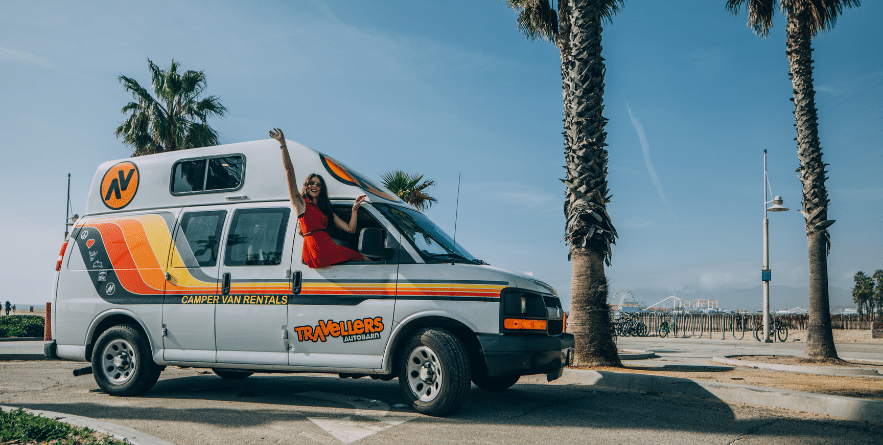 Southern California is filled with sunny beaches, crystal clear waters, and breathtaking mountains. When you book your campervan and follow this itinerary, you'll get to see it all.
So, are you interested in getting a campervan rental in Los Angeles? Get a quick quote from us here at Travellers Autobarn and start your adventure.
Find Your Nearest
Travellers Autobarn

Location