Blog feature article
Campervan vs. Motorhome – What's the difference?
If you are planning a road trip and want a vehicle that you can travel and live in, you might have questions about which rental vehicle is right for you. There are campervans, motorhomes, caravans, and RV rentals (recreational vehicles). The list goes on. So, what is the difference between these various terms?  What is the best option for you during your road trip through the United States? We have got all the information for you below.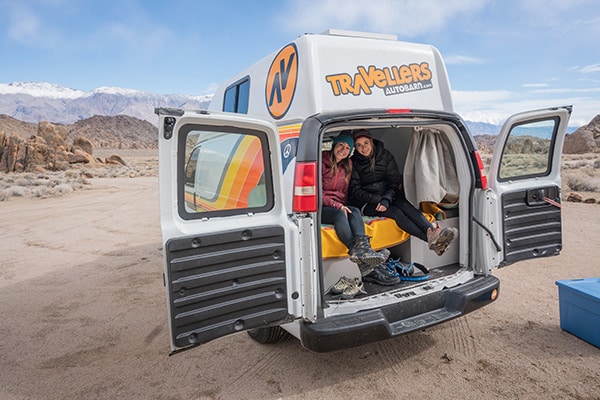 Campervan
The term campervan usually refers to a vehicle that started as a regular van and then converted in a way that makes it fit for sleeping inside. Campervans are much more compact that motorhomes and usually only have basic fit-outs. They typically sleep 2 or 3 people depending on the size, with a double bed at the bottom and sometimes a single bed built into the high-top roof. Campervans rarely have showers or toilets on board but will typically always have a kitchenette or equipment for cooking meals inside.
Check out our Kuga Campervan, which has a fridge, microwave, double gas cooker, sink, USB ports, and a rooftop solar panel.
Motorhome
A motorhome is generally a much larger vehicle than a campervan and built on a long-wheelbase. Motorhomes sleep 2-6 people depending on their size, and they are always large enough to stand up and easily move about inside. Motorhomes generally have fully-equipped kitchenettes, a living space, as well as a shower and toilet. Certain motorhomes also come with other luxuries you could find in a home, such as a television, air-conditioning, and DVD player. However, this is not usually a standard with rental motorhomes. Motorhomes have 1-2 slide outs to expand the living area and sleeping quarters and have additional storage space accessed on the outside of the vehicle.
RV
A recreational vehicle, or RV, is the blanket term given to any vehicle used for the purpose of traveling and camping. The term RV is widely used in North America to describe both campervans and motorhomes. Unlike campervans and motorhomes, some RVs require towing. Fifth wheels, camper trailer or travel trailer, and pop-up campers will all require a pickup truck or tow vehicle.
Travel Trailer or Caravan
Another term you may have heard is a travel trailer (or caravan), which is a different type of model altogether. Travel trailers are unpowered vehicles that are typically towed by a car or truck as a trailer. They come equipped for living in and depending on the size and style will include features such as double beds, toilet, shower, and kitchens.
What is the best option for you?
So, once you understand the different lingo used around different types of RVs, it's time to decide what will be the most suitable for you on your USA road trip. Choosing between a campervan and motorhome depends on factors such as your budget, itinerary, driving experience, and travel style.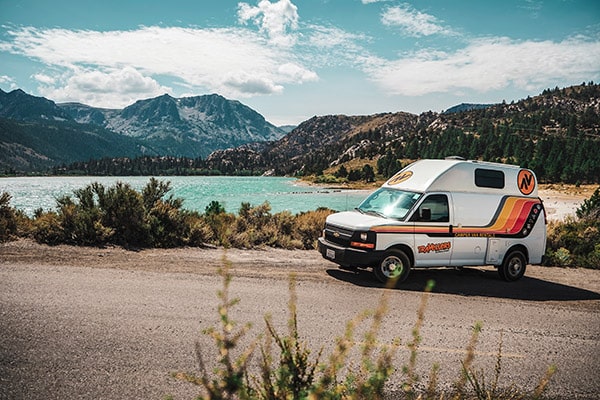 Budget
How much do you want to spend on your rental? If getting good value and saving money is a factor, a campervan rental is the best option to consider. Not only is the daily rental rate much lower, but you will also save a lot of money on fuel. Campervans are much smaller vehicles and more fuel-efficient.
Furthermore, you will have the option to go 'off-grid' more often and stay in places that a large motorhome wouldn't be able to visit. Motorhomes typically need to stay in designated campgrounds and motorhome parks.  Staying in motorhome parks can get quite expensive, especially in the summer.
Size
Keeping in mind that a motorhome is a much larger vehicle, think about how confident you are driving as well as where your trip will take you. If you don't feel comfortable driving a vehicle the size of a small truck or bus, then a campervan will be a better option for you. Of course, that means you will need to sacrifice some of the interior space, but that's all the more reason to get outdoors!
Where do you want to go on your trip? If you will be stopping through cities along the way, it's not easy to take a motorhome into most of them. The same goes for many windy and narrow roads in national parks, which are much easier to drive on in a compact campervan.
Features
Think about what you absolutely need in your RV and what you can live without or find externally. If you're someone who loves their creature comforts and thinks camping should only be done in luxury, you will probably appreciate the features of a large motorhome. A shower and toilet inside the vehicle may be a requisite for some, but generally, USA campgrounds have excellent facilities anyway.
Our Kuga Campervans are perfect for someone who wants a vehicle that is fully-equipped but doesn't find it necessary to have a toilet and shower on board. They even have 120V power points so you can stay powered when plugged in at a campsite.
There are so many other great reasons you should rent a campervan for your road trip around the USA. Whichever way you choose to travel, we guarantee you'll be blown away by the beauty of the USA's national parks!