Did you know that there are only four deserts in North America? You may be even more surprised to learn that you can visit half of them – the Mojave and the Sonoran – with a trip to Southern California.
If you are planning a trip to see these deserts up close and in person, a campervan rental in California is the best way to get there. But first, you need to decide where you plan to stop along the way.
We are helping you plan your Southern California desert RV campervan tour with this complete guide. Here are the top destinations you must stop by to get the most out of your adventure.
Los Angeles to Palm Springs
 Stop 1 (106 miles)
Start your journey in sunny Los Angeles, where you can pick up your RV campervan from Travellers Autobarn. Then, head east on I-10 toward the beautiful resort town of Palm Springs.
On the way, you will pass through the wealthy suburb of Rancho Cucamonga, where you may spot a celeb or two. When you hit San Bernardino, you are halfway there while you enjoy the views of the San Bernardino National Forest.
You can camp for the night at this national gem. Or you can make a quick pit stop to go for a hike, try horseback riding, or participate in one of the many other outdoor activities popular in the area.
You'll hit the Mojave Desert on the outskirts of LA. Follow the desert's southwestern edge for dramatic scenery, ranging from majestic mountains and vast canyons to rugged desert landscapes and stunning man-made lakes.
Once you get to Palm Springs, you'll have no shortage of activities. This town has a wide variety of activities on offer, ranging from upscale and high-end options to more outdoorsy activities like a ride on the Aerial Tramway.
Palm Springs to Joshua Tree National Park
Stop 2 (49 miles)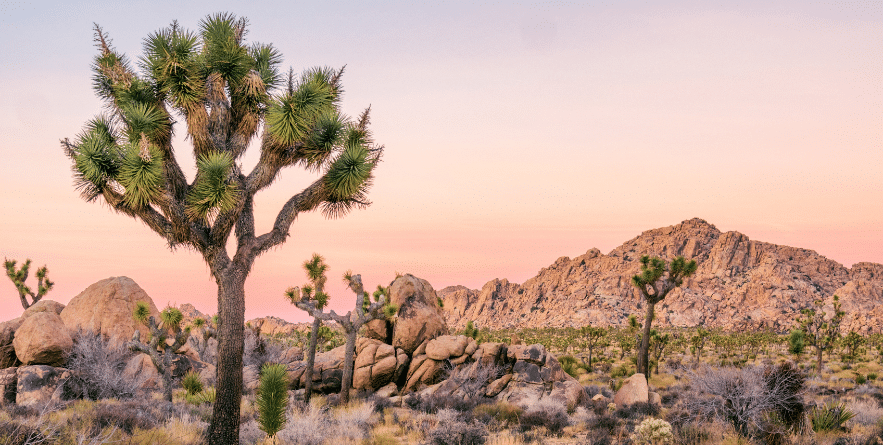 The famous Joshua Tree National Park is only a quick one-hour drive from Palm Springs via I-10 East. Whether you plan to make a day trip or stay a while, Joshua Tree is more than worth making the trip.
This California national park gives you the opportunity to see the Mojave and the Sonoran. The Mojave high desert features mountainous landscapes with ample hiking opportunities and incomparable desert views.
Check out the Sonoran low desert for an adventure on flatter ground. And just so you aren't confused, the sub-region of the Sonoran Desert located in Joshua Tree is known as the Colorado Desert, which is how locals will refer to the area.
If you can't beat the heat, consider cooling off at one of the indoor attractions. Pioneertown, Cabot's Pueblo Museum, and Noah Purifoy Outdoor Desert Art Museum are excellent options offering a cool haven during the summertime.
Don't plan to head back to Palm Springs for the night? You are in luck because Joshua Tree is home to more than 500 campsites. Reservations are required but available up to six months in advance, so book your spot now!
Joshua Tree to Salton Sea
Stop 3 (59 miles)
The Salton Sea is a landlocked saltwater lake and home to many of North America's wetland birds. The Salton Sea is also one of the lowest points on earth, at negative 227 degrees below sea level.
To get to the Salton Sea from Joshua Tree, take I-10 West before continuing your trip south on CA-86. This hour-long drive takes you through the heart of the Southern Mojave's low desert.
Aside from the Salton Sea State Park, there is plenty to do while you are in the area. Check out the International Banana Museum for a one-of-a-kind experience, snap a few photos at Salvation Mountain, or check out Slab City.
Also known as The Slabs, this area got its name from the concrete slabs leftover from a now-defunct World War II Marin Corps training camp, Camp Dunlap.
While you're in Slab City, park and stay a while. This unincorporated town is home to an off-the-grid community that welcomes travelers. Park your campervan near Slab City's entrance, as there are always available spots.
Salton Sea to Anza-Borrego Desert State Park
Stop 4 (12 miles)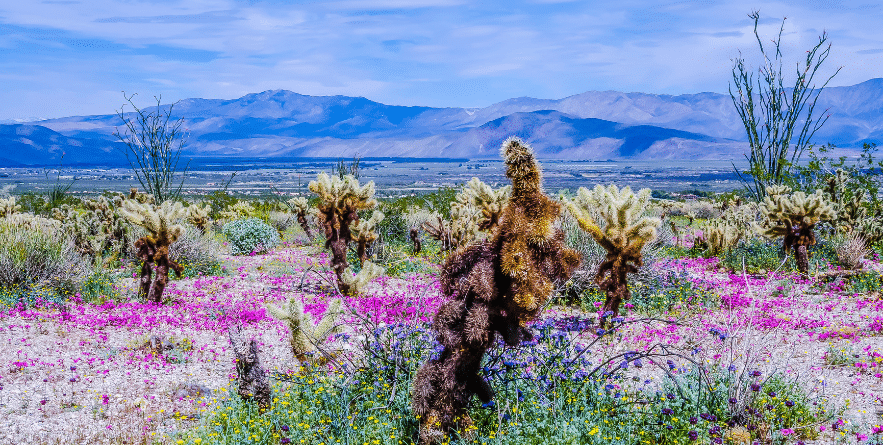 After a night in the lawless Slab City, pack up and head southwest via Borrego Salton Sea Way. In only about 15 minutes, you will reach the nation's largest desert state park – the Anza-Borrego Desert State Park.
Anza-Borrego is also known as the second-largest state park in the contiguous US. People come and stay for the fantasy-like landscape, complete with wild desert blooms, narrow canyons, teddy bear cacti, and much more.
The park sits on nearly 1,000 square miles of the Colorado Desert, which is part of the Sonoran. Hiking through the area will take you into the territory of Bighorn sheep and ancient rock art dating back hundreds of years.
The Anza-Borrego is also a go-to destination for stargazers. Camp for the night to spend a romantic or family-friendly evening beneath the sky, where stars and constellations are visible to the naked eye.
Speaking of camping, there are two main campgrounds available – the Borrego Palm Canyon Campground and the Tamarisk Grove Campground. Borrego Palm Canyon is larger, while Tamarisk Grove offers a quainter feel.
Anza-Borrego to San Diego
Stop 5 (73 miles)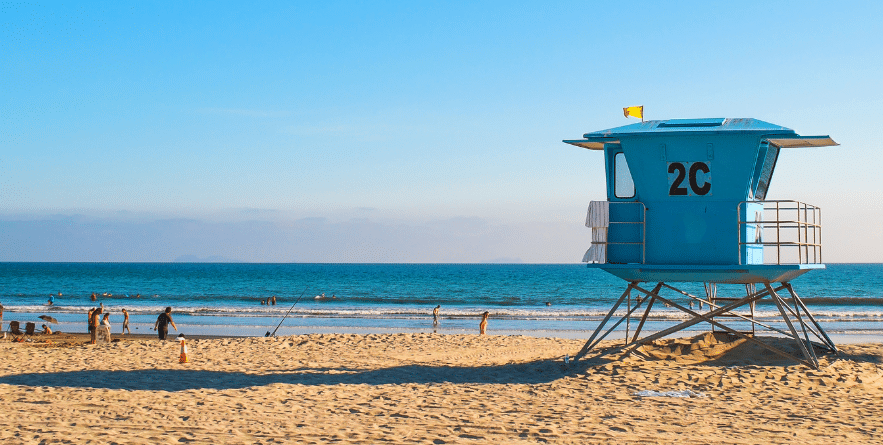 The Anza-Borrego is just inside San Diego County limits, so it should be no wonder that the city the county is named for is only a short drive away. It takes an hour and a half to reach San Diego on I-8 West.
While the Colorado Desert does not reach into San Diego itself, you can still enjoy the city's coastal desert climate. You will also get to see the scenic Sonoran Desert and mountain road views along the drive.
But before you get to San Diego, make sure you stop by the quaint town of Julian. This mountain village is famous state-wide for its homemade apple pies picked from the orchards native to the area.
Julian is also a history buff's dream town. It has an old mine from the 1800s gold rush that you can tour and a historic main street reminiscent of the Wild West.
When you arrive in San Diego, there is no shortage of activities. The beach is this city's main attraction. You can even park your campervan on the beach during your stay; check out Campland On The Bay and San Elijo State Beach.
San Diego to Temecula
Stop 6 (58 miles)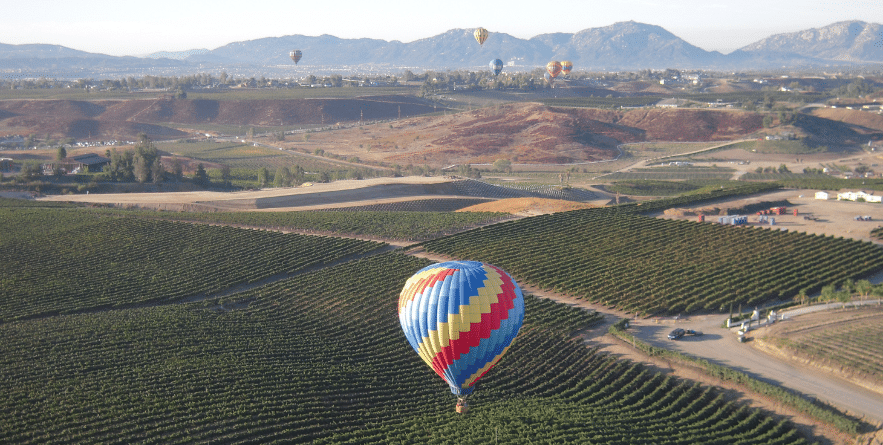 By now, you will have seen some of the most famous desert stops in Southern California. It's time to meander back to LA, but not before you make one more stop in the valley region of Temecula.
Just an hour and 17 minutes from San Diego, the Temecula Valley is situated on the west side of Riverside County. It is sandwiched between the Colorado Desert on one side and lush California wine country on the other.
Another option is to take 78 or 76 to Highway 79. These routes pass through San Pasqual Valley and Pauma Valley, both gorgeous farm regions. Along this longer but more scenic route, you can also catch sight of an old mission, a camel farm, olive farms, and the Mount Palomar Observatory.
Temecula is known for its championship golfing and award-winning wineries. The area also hosts some of the best and most scenic hot-air balloon rides in the country, offering views of the two disparate climate regions in the area.
If you are searching for a place to park for the night, try the Dripping Springs Campground at Dripping Springs National Park. If you are looking for a younger crowd, try the Vail Lake Resort.
Temecula to Los Angeles
Stop 7 (86 miles)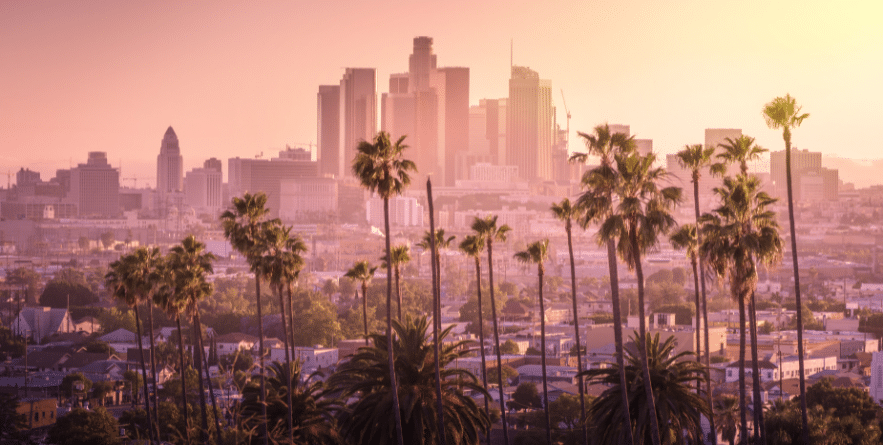 Your trip may be almost over, but that does not mean there isn't plenty of sightseeing to enjoy on the way. The hour and 45-minute drive from Temecula to LA takes you through the Colorado and Mojave deserts.
You can do this drive along I-15 North and I-10 West. Or you can take the Ortega Highway for a longer but more scenic route. The latter drive passes through coastal mountains, beautiful lakes, and rugged desert.
Along the way, you will pass the beautiful Lake Elsinore. The famed Glen Ivy Hot Springs Spa is also conveniently located if you feel like getting relaxed and rejuvenated after so many days on the road.
When you get to LA, don't stress about accommodation. The city and surrounding areas are campervan-friendly. For example, Moro Campground and San Miguel Campground are located outside of the city and offer beachfront views.
Before you drop off your Los Angeles campervan rental and head back home, make sure to check out the city's top sights. You can't leave without a visit to Griffith Observatory, Universal Studios, the Getty Museum, and the eponymous Hollywood sign.
Travellers Autobarn Campervan Rentals in California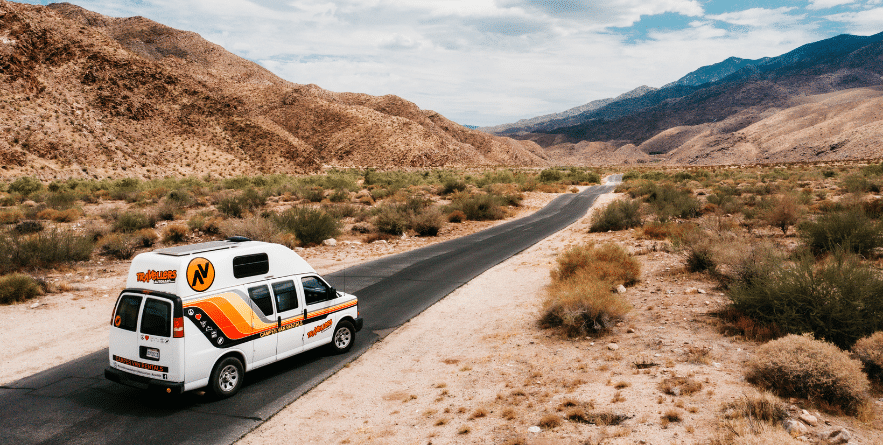 Southern California is home to stretches of the Mojave and Sonoran deserts. Experience these deserts on one campervan road trip with our itinerary. You'll see the best of the high desert in Palm Springs, adventure across the low desert at Anza-Borrego State Park, and explore them both at Joshua Tree.
Ready to book a campervan rental in California for your desert road trip? Travellers Autobarn has the best rates in LA. Get a quick quote to find out how much your trip will cost, and reserve your vehicle today!
Find Your Nearest
Travellers Autobarn

Location